Great news for FIFA 15 fans, you will be able to play FIFA 15 at insomnia54 this weekend at the Ricoh Arena in Coventry! Insomnia54 will be hosting free to play FIFA 15 tournaments every day, each with £200 up for grabs.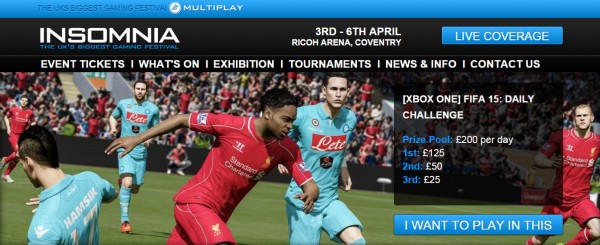 FIFA 15 Tournament Information
Format: Xbox ONE
Match Format: 1v1
Maximum Teams: 128 Players each day
Tournament Dates: Friday 3rd April, Saturday 4th April, Sunday 5th April
Start Time: 11:00BST
End Time: 17:00BST
Signing Up: Sign-ups run from 10:00 until 12:30. Sign-ups will close earlier if the player cap is reached
Entry Requirement: Entry to the event. PEGI 3+
Prize Pool: £200
Be @ Ricoh Arena for a Weekend of FIFA
To take part, visit the  FIFA 15 tournament area at any time at the event and sign up with the FIFA 15 tournament admin team each day. No entry fee or TUP ticket is required – just sign up and play on the day. Spaces are limited, and it's first-come first-served so be sure to sign up early to avoid disappointment.
If you love FIFA and are near Coventry this weekend then get yourself over to the Ricoh Arena.  You wont be disappointed and tell them Dave from Sweetpatch TV sent you 🙂