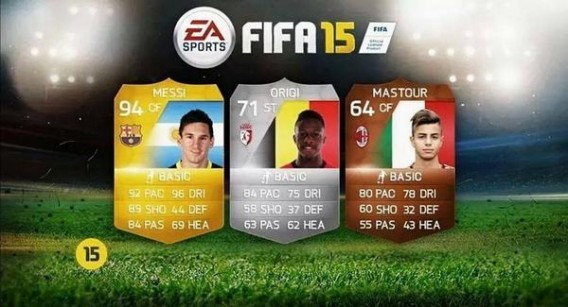 We are planning to run a FUT League from 3rd November, but would like your feedback to the following as this is our first time running this format.
Always open to suggestions to improve the league and make it fun, but competitive for all.
So read below, let me know your thoughts, then post below if your still interested. Many thanks.
Squad Format
Starting 11 should field with 5 gold, 3 silver and 3 bronze at all times when playing.
Create a separate specific league squad for league games only (keep your current elite squad separate when playing outside the league)
If making Subs, you must change like-for-like and keep the starting 11 as instructed.
You will need to have at least one gold, silver and bronze in your subs so
they can cover an injured or unfit player.
Rare cards are allowed.
No Loan players allowed.
No Training boosts allowed.
No Team of the week cards.
Obviously it will be difficult to monitor, so it might be an idea to take a pic/screenshot if your unsure of your opponent when their team shows before you play.
Therefore you need proof to claim a dispute, otherwise we can not act on it.
Any player will be warned and possibly given the benefit of the doubt, repeat the offence and you will be kicked from the league & prize coins void.

League Registration
Everyone submits their 18 man squad via screenshot with their phone or from the EA FUT website, before a given deadline date.
All players have to use that squad for the duration of the league.
That would stop people just buying great players when they are up against a league rival or whatever would keep it fairer since all players would be using the same UT players for all league games.
Fees/Prize Coins
Entry fee is 1000K, this will cover as follows:
If there are 8 teams; 1000 x 8 = 8000 coins
SPTV Award (Team that plays there games on time & fairly) = 600
Top Goal Scorer = 400
League Position prizes: 1st = 3500, 2nd = 1500, 3rd = 1000
Note: There's a 5% or 10% EA fee though so if you sell something for 1000 you only get 900 or 950 so would need to take that into account.
To enter and accumulate the prize fund as follows:
Each team/player will have to buy a card off Sweetpatch (Nidge) for the set price of 1K and you have 1 week to do so to enter.
At the end of the season we will then return the favour to those winners and return the prize funds by buying a low bronze card that equals your prize fund.
Gameplay Rules
6 mins halves
Play via friends, invite in FUT
You must pass backwards from kick off – no bombing forward straight from kick off!
No Kick off glitch allowed
No Pausing in the middle of the game – only in dead ball situations like throw in or goal kicks etc
You play both home & away fixture on the same night = 2 games, 8 teams = 14 games, 7 week season (if all games played on time)
League Start from 3rd November to 23rd December
How To Enter
Post below the following:
PSN –
FUT Team Squad name you will be using –
Contact details (all 3 would be best) – Facebook, Twitter, Skype