Last weekend Team Sweetpatch TV player Gary Harvey made it in to the last 8 of the FIFA 12 tournament @ Campus Party.  Check out his full review of the tournament as 3 UK players finished in the top 8.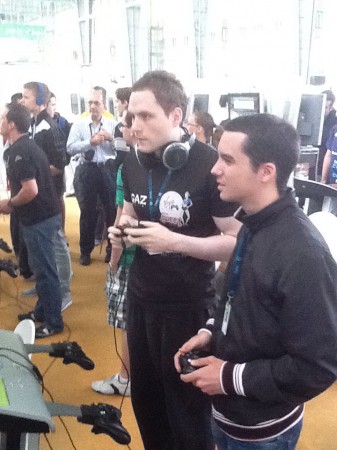 In Gaz's words:
Tuesday 21st August
Arrived on the Tuesday evening before the comp on Thursday but when arrived in Berlin my Bag never arrived which wasn't the best of starts really haha but eventually got it the following evening:)
Wednesday 22nd August
Wednesday was all about going to the venue and seeing what it was all about but when arrived I noticed that we were going to be playing on stand up pods which I wasn't over the moon about having to stand up for long periods especially in BO3 double elim. So checked venue out then headed back to hotel for some practice in the Hotel room before the morning games started. Got to play 2 game's then Henrique10 the guy I was sharing room with accidently knocked my Xbox over and lazer burned my Fifa 12 disc which wasn't so good but just had to laugh as everything was going wrong from bag to this haha.
Thursday 23rd August
Thursday morning came so was up early to get breakfast and headed to tube station to event. Arrived early so there was a little hanging about before we started at 11.15 and was feeling really good about my chances of getting to Saturdays Finals.
My first match was easy enough with 2-0 win in games then played someone that went Brussia Dortmund I went Madrid all through comp so first match was struggle at start but got through it with 4-2 win.
Then 2nd match was 8-1 which ment I won 2-0 in games and made it to Quarters winners bracket.
My third match was against a good player called P3rti from Spain, well people were saying he was good so had to be on my game. He went Man City I went Madrid first game was 4-1 to me and 2nd was 3-1 so got through to Semi Final against Western Wolves player Krasi who has been performing really well at events on Fifa 12.
I ended up losing 2-0 on pens shoot-out so that was me knocked into Loser Bracket Semi Final which I had to win otherwise I wasn't making Saturdays Final.  I had to play German player Marv who is well known in Germany, especially PC scene. First match wasn't going too great as I was 2-0 down at half-time and thought the game was a boggie and would never turn it around but I got 2 quick goals after half-time then got a wee bit lucky on my third goal, but I wasn't complaining after winning 3-2 first match my opponent wasn't too happy haha. 2nd match was pretty good I controlled most of the match and came away with 2-1 win which meant I made it to Saturdays Finals and guaranteed no less than €375 which was my main aim 🙂
You can check out my qualification bracket here.
Friday 24th August
Friday was really just going to event and watching the other bracket fight it out for places in top 8 for Saturdays finals,I just kept my twitter updated so the community back home in UK could see what was happening out in Berlin.  After event my friend Henrique10 sadly didn't make it through to Saturday so he knew someone from Germany who took us out in his car for a tour of the city, which was a bit of an eye opener to be fair. Some things I hadn't seen before but I won't mention them in this chat haha, overall Berlin was ok City wise but venue was amazing 🙂
Saturday 25th August
Saturdays Finals-Headed to venue really early only time for Banana for breakfast we had to be there for 9am est.
My first match was against Western Wolves player WickyBG who is well known in Fifa scene. First match was really tight 2-2 after 90 mins so had to head to extra time which I sadly lost 4-3. Then next match lost 3-1 but couldn't complain as he took his chances I never.
So meant I had to play Spain's #1 Fifa player Ralfitita to go any further, which was ok cause we play kind of the same attacking wise games.  Both went Madrid and it was a really high scoring game, I ended up winning it 5-4 in the 90th minute which I was over the moon with. 2nd match was really close again 2-2 after 90mins so headed to extra time which ended 4-4 so on to pens which I lost. Horrible way to lose so third match was another high scoring game ended up losing it 4-3 but his attack is unreal 🙂
In Summary
Overall the comp was amazing and met some really good guy's out there. Would also like to say well done to Adam Johnston from Republic of Ireland who ended up winning the €5,000 1st prize. He played really well over the whole tournament and also Tass from UK who came 3rd, he was playing great aswell.  Well done guys good to see 3 UK players in top 8 (I am calling Adam UK in this 🙂
[table "" not found /]

Grand Final Bracket