Electronic Arts Inc. have announced that EA SPORTS™ is developing FIFA 13 a for Nintendo Wii U™. Featuring award-winning gameplay, HD graphics and new ways to play, FIFA 13 promises to be incredibly innovative on the Wii U and it will be in stores around the world when the new console launches. Check all details and screenshots here.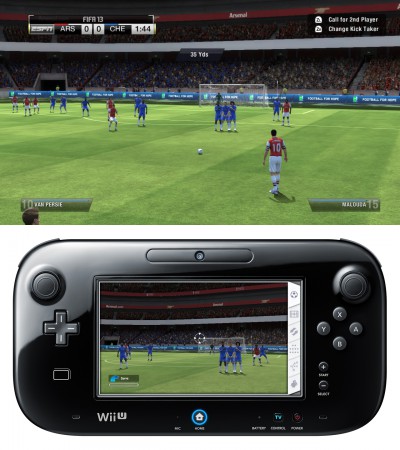 EA SPORTS delivers its best football game ever on a Nintendo console with award-winning gameplay—including the Player Impact Engine—HD graphics, and over 500 officially licensed clubs. Three revolutionary new ways to play bring players of all abilities together, making this the most accessible FIFA console game ever made. Families can play together in Co-op Mode, where one player manages and up to four others play. Team Management Control features interactive radar to send players on supporting runs, attacking or defensive, and touch screen control to change tactics, formations or subs on the fly. Experience the thrill of managing your favorite football club in Manage Match, directing players from the sidelines and even giving half-time talks. Plus, view a statistical analysis of the match and any player at any time.
Andrew Wilson, Head of EA SPORTS, said:
"We challenged our teams to develop innovations designed specifically for the Wii U, and to create new ways to play that would bring players of all abilities together. Our teams have truly delivered creative new football experiences with FIFA 13 and Madden NFL 13 for the Wii U."
Innovations that utilize the Wii U™ GamePad put you on the pitch and immerse you in the action. Lift and look through the GamePad touch screen to aim the ball on set pieces and penalty kicks, then put the perfect curve on your shot and let it fly. Shake the GamePad to activate Touch Screen Shooting, removing the element of 'hit and hope' and allowing for pinpoint accuracy. Plus, connect and interact with friends like no other FIFA title. See your friends online and invite them to play, or message them in real time using touch screen typing.
[table "" not found /]
Check out our special FIFA 13 Wii U photo gallery
Also check out our partners at FIFA Soccer Blog's FSB's FIFA 13 – Wii U Preview after they were lucky enough to play it when the recently visited EAC.