The Epson Gaming Challenge concluded in spectacular fashion as five Manchester United first team players joined nine European finalists at an amazing Grand Final in Manchester.  Check out the video and all the news from the event.
httpvh://www.youtube.com/watch?v=dsIgIiYQ1T8
As the finalists and their guests entered the venue for the final, they were left speechless by the sight of four impressive, 80 inch projector screens lined up, all ready for them to play the latest football video game. However, it was not just anticipation of the tournament that was filling the room with nervous energy.
The winners were overjoyed as Danny Welbeck, Phil Jones, David de Gea, Nick Powell and Javier 'Chicharito' Hernandez were unveiled as the mystery Manchester United players by legendary footballer Andrew Cole.
Each of the Manchester United players teamed up with one of the Epson Gaming Challenge finalists to play the leading football video game against a teammate and another winner. Quickly it became clear that the footballers were just as competitive in the virtual world as they are on the pitch, with David de Gea really enjoying his 5-0 victory over Danny Welbeck.
Playing on a projector for the first time, Manchester United's Phil Jones said:
"I love playing football video games in my spare time, but I had not played on a projector before the Epson Gaming Challenge. I was amazed at just how good the picture quality was and how it made you feel part of the game itself. I'm lucky enough to play in front of the crowd at Old Trafford and didn't think anything could come close to matching it, but now that I have experienced playing on Epson's EH-TW550 projector, I can safely say it's the next best thing."
In the Epson Gaming Challenge tournament itself, it was UK finalist Dave Bytheway who impressed during the group stages, winning all his games and not conceding a single goal. He was progressed to the knock-out stage along with the German and Swedish finalists, Kai Wollin and Adam Berg. The final space taken by Stefan Gajduk, who won the tournament's launch event at the IFA exhibition in Berlin.
In the first game, Kai held on to defeat Stefan 2-1. While, inspired from partnering England international Danny Welbeck, Dave Bytheway, continued to look unbeatable as he won 2-0 against Adam Berg. That meant a final between Germany and Great Britain.
Following two nail-biting six-minute halves, it was Kai, a professional gamer who competes around the world, who was victorious, claiming a 2-0 victory against a devastated Dave Bytheway.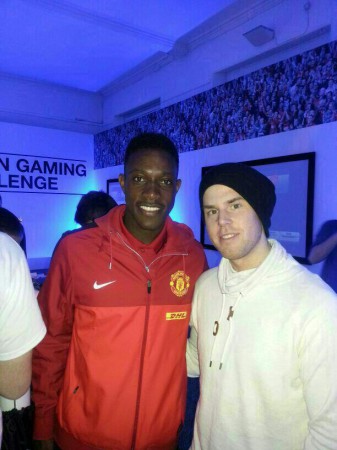 After collecting the Epson Gaming Challenge trophy, Kai commented:
"I'm absolutely delighted to have been crowned the first Epson Gaming Challenge champion. I've played in lots of gaming tournaments around the world, but I've never played against "real" Manchester professional players, it was a once-in-a-lifetime experience."
Kai also returned to Germany with one of Epson's flagship products – the EH-TW9100W projector. Boasting state-of-the-art wireless, full HD picture technology, it is the ideal piece of home cinema equipment for film and gaming fanatics, delivering full HD 2D and 3D images, without cables or permanent installation.
"I can't wait to try out my new Epson EH-TW9100W projector. I'm definitely going to be setting it up in my home and inviting my friends around to enjoy the experience with me,"
continued Kai.
For more information about Epson's range of home cinema projectors visit www.epson.eu.
To celebrate the success of this tournament we have a special giveway later on today – not to be missed!