Electronic Arts Inc. announced at gamescom yesterday that EA SPORTS™ has developed a new feature for FIFA 13 called EA SPORTS Football Club Match Day that will drive the deepest and most meaningful connection yet between a videogame and the real world of sport ever achieved.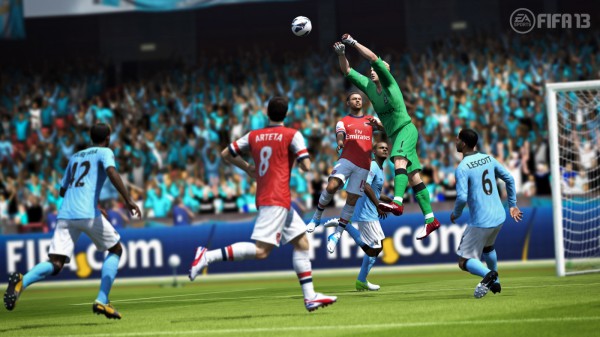 EA SPORTS Football Club Match Day
FIFA 13 and the football season will be completely connected for the world's top leagues. EA SPORTS Football Club Match Day will drive real-world news ripped from the headlines around the world into FIFA 13. Real-world drama such as injuries, suspensions, team form, and media gossip will be reflected through in-game commentary and play out in-game.
David Rutter, Executive Producer of FIFA 13, said:
"This is a huge technological innovation that will make every match feel like a seamless extension of the headlines ripped from the football pages around the world. There is nothing bigger in the world of sports than match day. It brings together the emotions, passion and drama of the world's sport for players, pundits, managers and fans alike. We are going to capture that experience and bring it to life in-game."
Through EA SPORTS Football Club Match Day, fans will be following the heartbeat of football and their favourite club. Real-world fixtures and upcoming clashes of their favourite club in the top leagues will enable them to play right along with the beats of the season. Player form—displayed in detail within the team management screens—will change frequently, so players in form, or players struggling to keep form, will see their stats change throughout the season based on their real-world performances. Plus, Games of the Week will highlight the top global matchups for fans to enjoy.
EA SPORTS Football Club Match Day will be available for the PlayStation®3 computer entertainment system, Xbox 360® videogame and entertainment system, and PC, and will be included in a FIFA 13 demo for all three platforms that will launch around the world on September 11.
Seasons
EA SPORTS also revealed that it has expanded its most popular and addictive online* mode, now called Seasons, to include 2v2 co-op ranked online play where friends can battle together in ten game seasons to win promotion in league divisions. Division Titles have been added to every division, and a new Trophy Cabinet enables champions to showcase their silverware. Players can perfect their line-up and tactics across multiple Seasons matches, save the squads, and use them for every match. Plus, new match-making options enable fans to fine tune their Seasons experience.
The popular Seasons format has also been developed for FIFA Ultimate Team, bringing ranked online play with seasons, promotions, and relegation to the mode for the first time. In FIFA Ultimate Team fans can earn, buy, trade and bid for coveted players to build a team of the world's best football stars. Fans can create and manage multiple squads and take them into competition in online and single-player tournaments. It's now easier than ever to play Ultimate Team with a re-designed navigation system and the Icebreaker Flow, enabling inexperienced players to choose a team captain, such as Messi, Karim Benzema, Jakub Błaszczykowski or Claudio Marchisio, to begin a guided Ultimate Team journey.
EA Press Conference
For all the FIFA 13 announcements at the EA Press Conference visit our very own and comprehensive list of everything FIFA 13 @ gamescom and check out the gamescom Launch Trailer too.
Pre-order your copy of FIFA 13 from our: