Have you JOINed THE CLUB of FIFA 13 on the iOS yet? EA SPORTS is proud to announce FIFA 13 for the iPhone, iPad and iPod touch that connects fans to the real world football and enables them to play the most popular sports franchise against friends and other fans from all over the world. Full fact sheet and 5 images here.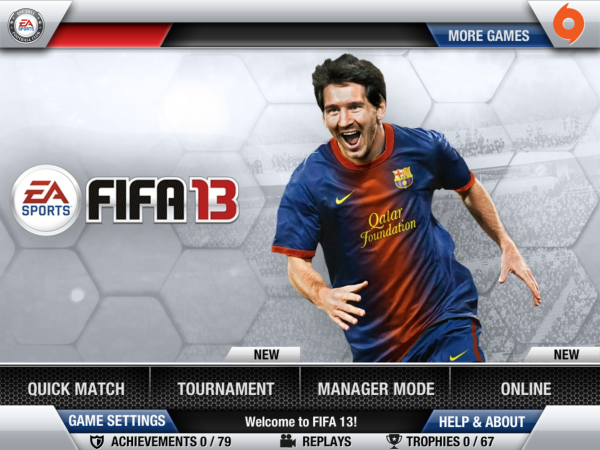 More realistic than ever, FIFA 13 comes with dramatically improved graphics and an improved control scheme, delivering all the authenticity and innovation that the FIFA franchise is known for.
For the first time ever, players will be able to enjoy competing with friends anytime, anywhere using Online Multiplayer. Rise to the top of the Leaderboards taking superstars like Messi and Benzema on the pitch against your friends or other competitors in the FIFA online world.
EA SPORTS Football Club connects players to the real-world competitions, enabling you to support your favorite club as well as connect with friends, rivals and millions of other players around the world. Earn experience points and level up to build status. You can relive crucial real-world football events through regular challenges so that FIFA 13 will look, feel and play like the real-world season.
Featuring 30 leagues, more than 500 teams and more than 15,000 players, the ultimate football experience has hit the App Store.
Key Features
32 licensed stadiums, 30 leagues, over 500 teams, and over 15,000 players
Improved graphics
New controls
Universal build including the Gamepad
EA SPORTS Football Club, connecting fans:

To each other
To their favorite club
To the real world of football
Across platforms

Game Modes

Online Multiplayer
Tournaments – Leagues & Cups
Quick Match (friendlies, practice, penalty shootout)
Manager Mode
EA SPORTS Football Club Challenges

Upload highlights directly to YouTube
Go grab your copy of FIFA 13 from the App Store and enjoy playing FIFA 13 on the move.
Also, have you signed up to our new mySweetpatch.TV Forum yet?  Learn how to join the forum and then post away in our mySweetpatch.TV Forum and tell us all about your FIFA 13 experiences and see what else is gong on with our online leagues and tournaments.
FIFA 13 | iOS Gallery