Our partners over at ModdingWay.com  have released version 0.9.3  of their FIFA 13 ModdingWay Mod for your PC which brings new Boots, new and updated Kits, Referee Kits, Goalkeeper Gloves, new Faces, new Tattoos and new Stadiums Previews.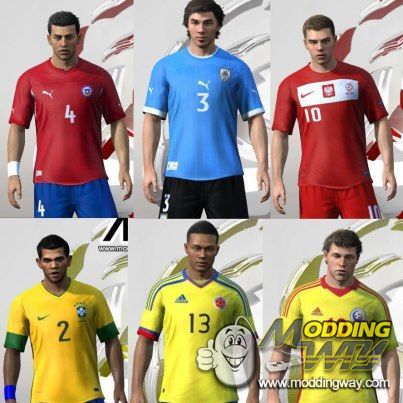 FIFA 13 ModdingWay Mod Version 0.9.3 adds:
New Boots added: Puma evoSPEED 1 Ducati SL, Lotto Fuerzapura II 100 – Red/White, Lotto Stadio Potenza II 100 – White/Blue
Licensed Kits: Lech Poznan, Juve Stabia, Livorno, Modena, Virtus Lanciano, Bari, Ecuador, Paraguay
Updated Kits : France ( Home ), Estoril Praia, Tottenham
Referee Kits: UEFA Champions League, Europa League, EPL
Goalkeeper Gloves: Added ( some replacing EA Gloves ) Many assigned to top GKs, Uhlsport Aquasoft ( 2 versions ), Reusch Keon Pro G2 ( 2 versions ), Uhlsport Ergonomic Absolutgrip – White/Black/Gold, Uhlsport Ergonomic Absolutgrip Bionik, Realtec 980 Star, Umbro ( Joe Hart ), Penalty ( Valdés )
New Faces
New Tattoos
Fixed problems with Revolution Mod (White names in shirts of National Teams).
Fixed missing Botafogo Kits.
New Stadiums Previews. ( by Patchanka )
Version 0.9 changelog:
Updated Revolution Mod.
Licensed kits : Brescia, Grosseto, Venezuela, Bolivia, Estoril, Crotone.
New Adboards: Liga BBVA and others.
New Faces Added ( check on players.lua file )
Boots Player Selector updated with tight kits option.
New Balls: Adidas Tango 12 OMB and Europa League Ball.
Download the FIFA 13 ModdingWay Mod.
Check out all the latest FIFA 13 Games Mods, Patches and Updates in our brand new FIFA 13 Downloads page in partnership with ModdingWay.com.