The Gfinity FIFA 14 Championship LAN, in association with us here at Sweetpatch TV, takes place on the 15th February LIVE from Gfinity HQ with 8 top European players competing for the £2,500 Prize Pool.  Abdourahim Danny (@Epsilon_Danny) and SterrenStatus won their respective brackets and the £500 prize funds and will be joined by the other players who made it in to the semi finals, including Olly Shaw, Tom Stokes, Epsilon Vinch, Tass Rushan, August Rosenmeier and Fabio Denuzzo.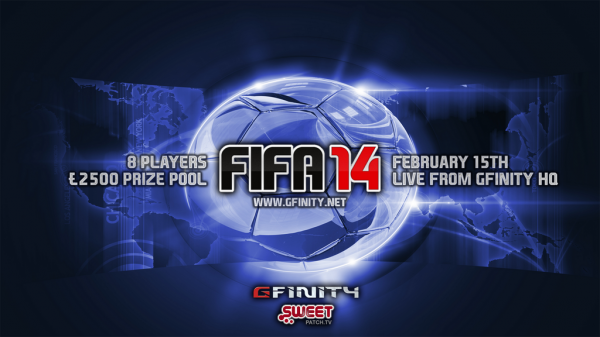 Gfinity and Sweetpatch TV Partnership
After highly successful live events and tournaments in the world of Call of Duty, Gfinity have decided to expand its horizons and provide a platform for the best FIFA 14 players around to test their mettle.  By partnering with us here at Sweetpatch.TV, Gfinity will receive our guidance and support that will help them to deliver an excellent FIFA gaming experience for all competitive FIFA gamers. The event kicked off before Christmas with an open online qualification tournament and saw 256 top players competing online in 2 brackets for a top prize of £500 per bracket winner, on the Xbox 360 version of the game. The 8 semi-finalists from the 2 tournaments will now be attending the Gfinity studio on 15th February to compete in the inaugural Gfinity FIFA LAN and do battle for a substantial prize pot of £2,500 and the right to call themselves the first FIFA Champion. This will take place on the Xbox One console.
Catch up with Brackets
We look forward to working closely with Gfinity to help bring more excellent competitive FIFA opportunities for you all.