Our partners over at ModdingWay.com  have released 2 new updates for their amazing FIFA 14 ModdingWay Mod, version 0.8 and 0.8.5. These updates include UEFA Champions League Kits for all teams in competition, Serie B complete with all kits licensed, Nike Hi-Vis Balls, 700 Boots and much more! Get your copy here!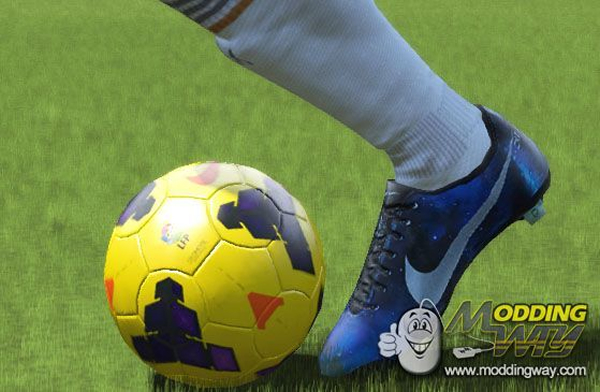 FIFA 14 ModdingWay Mod Version 0.8 includes:
Database 2.0 according to latest EA Update
Database 2.0 Matrix Stats
Fixed Paraguay and Venezuela rosters
Serie B : licensed kits for all teams
Liga Zon Sagres : licensed kits for missing teams
UEFA Champions Leagues Kits for teams currently playing the tournament
UEFA Europa League : Tottenham Kits
Boots Pack by nabo78. More than 700 boots to be assigned
Nike Incyte Hi-Vis Balls : Serie A, EPL, LFP
Updated EPL Scoreboard by Evolution
New Faces
New Version MW Selector
Fixed bugs
FIFA 14 ModdingWay Mod Version 0.8.5 includes:
Database Default Improved, 2.0 and 2.0 Matrix

Added managers and stadiums names
Fixed problems with boots and missing balls

Liga Zon Sagres Kits : numbers and fonts fixed
Faces missing in previous update

Pirlo
J. Boateng hair updated

Fixed white gloves problem
La Liga Adboards
CSKA Russian PL GK Kit
To install this update
You need to install as follows:
Enjoy your FIFA 14 ModdingWay Mod Version 0.8 and 0.8.5 patches and also check out all the latest FIFA 14 Games Mods, Patches and Updates in our FIFA 14 Downloads page in partnership with ModdingWay.com.