Our partners over at ModdingWay.com  have released update 3.5.0 for their awesome FIFA 14 ModdingWay Mod for your PC.  It provides up-to-date and complete Season 14/15 transfers  for the Premier League, Ligue 1, Liga BBVA, Serie A, Bundesliga, Russian League, top teams of other European leagues, Season 14/15 Kits for Premier League, Bundesliga, Serie A plus others and as a bonus you can play Premier League 14/15 with real fixtures! Also winners of leagues and cups updated, UEFA and Euro according to teams qualified for season 14/15 and much more. Find out all about it and download your copy here.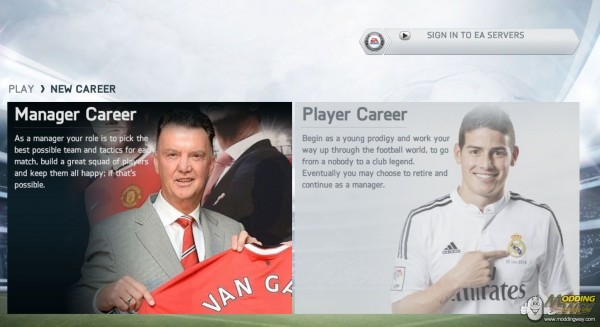 FIFA 14 ModdingWay Mod Version 3.5.0 includes:
Database 7.0

New Season 14/15
Career starting in 2014
Teams promoted and relegated : Premier, Liga BBVA, Serie A, Ligue 1, Bundesliga
Transfers : Premier League, Liga BBVA, Serie A, Ligue 1, Bundesliga updated to 03/08/2014
Transfers top teams Russian League, Brasileirao, Benfica, Sporting, Porto, Ajax, PSV, Feyenoord, Galatasaray, Besiktas, Fenerbahce
Players stats according to latest EA Update

Kits Database 7.0

Kits almost complete FA Premier League
Serie A : Juventus, Milan, Inter, Napoli, Lazio, Roma, Fiorentina
Liga BBVA : Real, Barcelona, Atlético Madrid, Athletic Bilbao
Ligue 1 : AS Monaco, PSG
Bundesliga : Bayern, Dortmund, Borussia M., Freiburg, Hamburger, Koln, Leverkusen, Schalke, Werder Bremen, Hertha, Mainz, Wolfsburg, Augsburg
Others : Ajax, Feyenoord, PSV, Porto, Benfica, Sporting

New adboards

MLS, Scottish League, Sky Bet Championship, League 1 and League 2.
To install this update
To install this update you need to follow the instructions by clicking on the "Download" button below.
[su_button url="http://www.moddingway.com/file/44363.html" target="blank" background="#A00622″]Download[/su_button]
Enjoy
Enjoy your FIFA 14 ModdingWay Mod Version 3.5.0 patch and also check out all the latest FIFA 14 Games Mods, Patches and Updates in our FIFA 14 Downloads page in partnership with ModdingWay.com.