Eden Hazard surprised three Chelsea fans when he turned up for a game of FIFA 15 at Stamford Bridge. The Belgian international, fresh from international duty at the weekend, joined the competition winners next to the pitch for a game of EA Sports' latest release.
httpvh://www.youtube.com/watch?v=SpqC4ghN7Aw
The winners, who had entered via the club's official Facebook and Twitter pages, knew they would be facing each other while sat in the dugout seating usually reserved for Jose Mourinho and his backroom staff on home matchdays, but were not expecting the arrival of Hazard, who also features on the FIFA 15 cover alongside Barcelona's Lionel Messi.
An accomplished gamer, Hazard took centre stage as his team emerged victorious, coming from behind to take a 4-2 victory.
Hazard said afterwards:
It was really good fun, and I hope it was a good surprise for them. It was a good day for me because I won the game! It wasn't easy but 4-2 was a good result for me.

I don't know who is the best FIFA player at Chelsea but it's not me, that's for sure. It's probably one of the young guys. In France they play it a lot so maybe Loic Remy or Kurt Zouma are the best, but they will both be better than me.
Competition winner Matthew Saunders, from Kent, had the task of facing Hazard after signing up via Twitter.
I entered online and follow all the Chelsea news and competitions on there. This one stood out because I'm a big FIFA fan, and the mystery guest sounded enticing. I really wasn't expecting it to be Eden even though he's on the game's cover, especially because I thought he might still be away on international duty. He's a pretty good gamer, and I know how difficult an opponent he is, so I don't envy the Premier League defenders at all!
Download Chelsea Wallpapers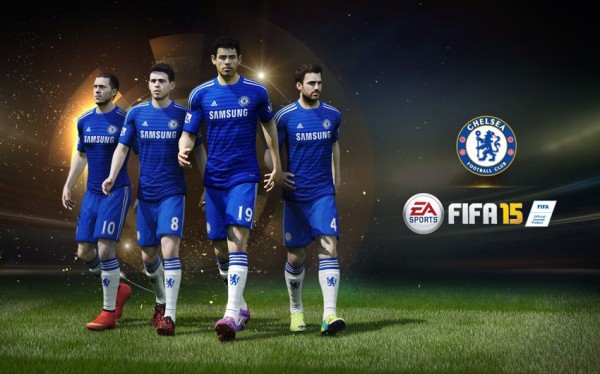 Download exclusive FIFA 15 Chelsea wallpapers for your Facebook profile, desktop and mobile.
EA SPORTS have a new long term partnership with Chelsea Football Club as their official video gaming partner. Look out for more exclusive content through the season!
[su_button url="http://www.easports.com/uk/fifa/news/2014/fifa-15-chelsea-wallpapers" target="blank" background="#A00622″]Download Wallpapers[/su_button]