EA SPORTS have announced that Leo Messi is set to appear on the global cover of EA SPORTS FIFA 15 – due out late September 2014 for the 4th consecutive season and they have created some great wallpapers to celebrate.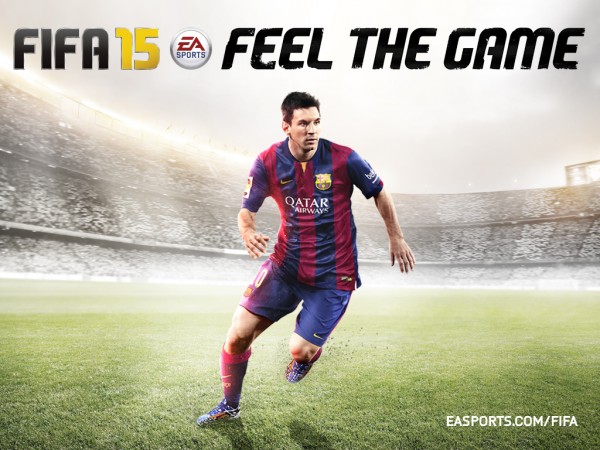 Falling just short after a stunning performance that saw him receive top individual honors at the 2014 FIFA World Cup, the 27 year-old won four Man of the Match Awards and scored the same number of times in the tournament. Messi had 28 goals for FC Barcelona this past season. EA SPORTS is honored to have Messi lead a roster of international superstars set to appear on the cover of FIFA 15.
This season will mark the fourth consecutive time that Messi stars on the cover of a FIFA title previously appearing on FIFA Street, FIFA 13, and FIFA 14. In that time, Messi has been on top of the football world at FC Barcelona, setting the record for most goals in a year (91) and marking a milestone as the only player to receive the FIFA Ballon d'Or four times. Leo Messi was originally announced as an EA SPORTS Football Ambassador in November 2011, a partnership that has not only put him on the cover of multiple FIFA titles but also brought a new street football pitch to Barcelona thanks to the Messi foundation and EA SPORTS.
FIFA 15 Covers
[Not a valid template]
FIFA 15 Regional Covers
As with previous FIFA releases, there will be a number of regional covers featuring local talent with Messi. Stay tuned in the coming weeks as they reveal those.
Messi stats
International debut: 2005
International games: 93
International goals: 42
World Cup goals: 5
La Liga Titles: 6
FC Barcelona Goals: 243
European League Titles: 3
European League Goals: 68
FIFA Ballon d'Or: 4
Download FIFA 15 Wallpapers
To celebrate this announcement, EA SPORTS have also produced some awesome wallpapers for all your devices.  Download your copies here.
[su_button url="http://www.easports.com/fifa/news-updates-gameplay/article/fifa-15-global-cover?utm_campaign=fifa15-social-global-ic-fb-fifa-global-cover-071414-fb-text-site-ramp&utm_source=facebook&utm_medium=social&sourceid=fifa15-social-global-ic-fb-fifa-global-cover-071414-fb-text-site-ramp&cid=23255&ts=1405413519240″ target="blank" background="#A00622″]Download Wallpapers[/su_button]