The FIFA Interactive World Cup (FIWC) has just surpassed 1.6 million players participating in the annual tournament. Following the first ever FIWC in 2004, the tournament has grown significantly and in 2010 secured its place in the Guinness World Records as the largest online gaming tournament. This year's FIWC only kicked-off in October and in just less than three months has attracted a staggering 300,000 more players than participated in last year's entire event, breaking its own world record.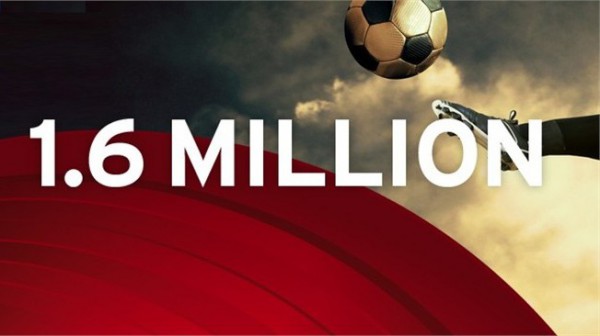 Breaking Records
To mark this landmark achievement this season, FIFA has compared key stats from some of Europe's top leagues with those of the FIWC, and the results have shown that the football being played in the tournament is as realistic, exciting and attractive. FIWC and its amazing 1.6 million participants are mirroring real life in their approach to football's virtual counterpart.
Gone are the days of five-aside football scores in the World's favourite football video game – the FIWC now averages just four goals per game compared to three in the English Premier League, La Liga and the Bundesliga.
The virtual football tournament also matches up to the real thing when comparing the pass success rate from the amazing 17,541,508 matches that have been played so far. The FIWC (78%) compares more favourably than La Liga (77%) when it comes to pass success rate – a league with a passing game revered by many as the best in the world. Meanwhile, there is just a 3% difference compared to the English Premier League (FIWC 78%, English Premier League 81%) and a 1% difference compared to the Bundesliga (79%).
Clearly, when it comes to attacking football, the FIWC is up there with the best leagues in the world as an advocate for 'the beautiful game.' However when it comes to defending, its players have still got a way to go, with an average of just 25 successful tackles per game compared to 39 in the English Premier League, 47 in the Bundesliga and 43 in La Liga.
Get Involved
Players compete against each other either online or offline to qualify for the Grand Final, the final tournament where the FIWC World Champion is crowned and receives the prize money of USD 20,000 as well as an invitation to the FIFA Ballon d'Or to meet the biggest football stars in the world.
Contestants can still participate in this year's FIWC through an online tournament played on the PlayStation®Network, by registering 'in-game' in EA SPORTS™ FIFA 13 on their PS3™.  For more information on the FIWC, go to: www.fifa.com/fiwc.