The Grand Final for the FIFA Interactive World Cup 2015 will be held in Munich, Germany. Taking the FIWC 2015 Grand Final to the home of the reigning FIFA World Cup™ champions sets the stage for an unforgettable experience for the 20 Grand Finalists lucky enough to secure a place at the main event.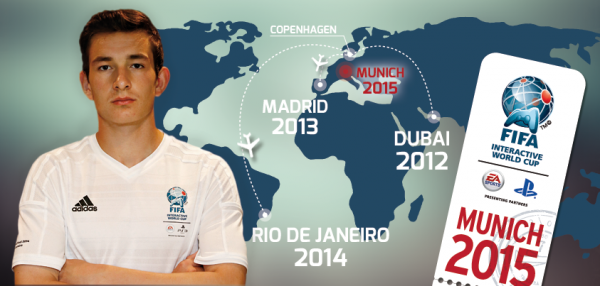 Several members of Germany's 2014 FIFA World Cup™ winning squad call Munich home, where – under the guidance of 2011 FIFA Men's Football Coach of the Year Pep Guardiola – they continue to expand the already impressive trophy cabinet at Bayern Munich, Germany's most decorated football club.
Current champion August Rosenmeier told FIFA.com:
It's awesome, it's the city of champions! I hope to see some of the stars and some of the city. I already love this game and I am really looking forward to playing it in Munich!
At the Germany Grand Final, August will attempt to accomplish what no former champion has ever managed to do – successfully defending their FIFA Interactive World Cup title.  Rosenmeier said:
It is a big motivation for me, to try to be the first FIWC champion to win two in a row, but I can see why no one has done it.  The level of focus and effort I will have to put into the Grand Final is massive. However, I know that I am capable of doing it. It will be very exciting to see how I react under the pressure in Munich.
Visit the home of the World Champions
Compete in the FIWC 2015, secure your seat in Munich and you could be in for the trip of a football fan's lifetime. Every Grand Final is unique, giving players the chance to experience world-class hotels, unforgettable locations, exclusive events and of course to meet some of football's stars.
It's All Kicked Off
Join the online qualification campaign for FIWC 2015. You have six online seasons in which to win a place in Munich! And remember, 90 games is all it takes to potentially win a spot at the Grand Final. Get involved in FIWC 2015 and you could be crowned virtual football's next world champion in the home of the real world champions!
Sign Up Now
Get over to the home of the FIFA Interactive World Cup and sign up now in game.  Prove your skills in 90 games and you could be on your way to the Grand Final.