Congratulations to Kai Wollin as he secured his second consecutive national title and his seat at the FIFA Interactive World Cup Grand Final with victory in the Germanany Territory Showdown held on 17th April at the home of his favourite team, Signal Iduna Park, home of Borussia Dortmund. Watch all the coverage here.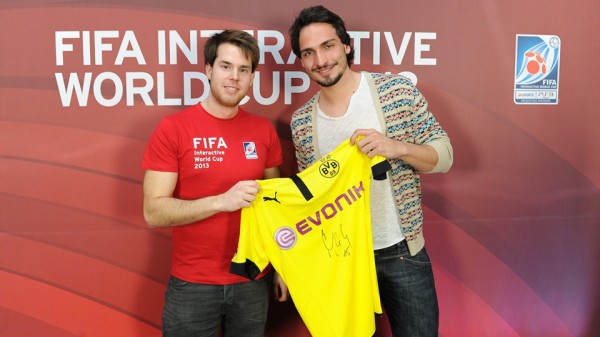 Replay: FIWC 2013 – Germany Territory Showdown
Watch the replay of all the games from the event here.
Kai's Path to Victory
The Germany Showdown brought together the three best online FIWC gamers and the 2012 national champion for a knockout tournament that would send one player to the FIWC13 Grand Final in Madrid. After some fierce competition the Final comes down to defending champion Kai Wollin and challenger Marius Popp. Kai selects Real Madrid while Marius sticks with underdogs Fortuna Dusseldorf, a team his used throughout the tournament.
Kai's Madrid is too strong for Marius, scoring three goals without reply.
"I feel so happy and relieved. The pressure as a favourite was really high. I'm so happy that I have won it!"
Kai told FIFA.com shortly after securing his second consecutive national title.
"I 've been a fan of Dortmund since childhood, specifically since watching my very first Bundesliga game."
Territory Showdowns
Territory Showdowns are an exciting new qualification method for the FIFA Interactive World Cup. At a Territory Showdown, the previous year's national champion is joined by the best three online players from his country for a high-stakes live competition. The winner of a Territory Showdown will receive a seat at the FIWC13 Grand Final.