London, Rome or Madrid, which city do you want to see host the FIFA Interactive World Cup 2013 Grand Final? For the first time in the history of the FIFA Interactive World Cup, virtual football fans will decide the host city for the tournament showpiece.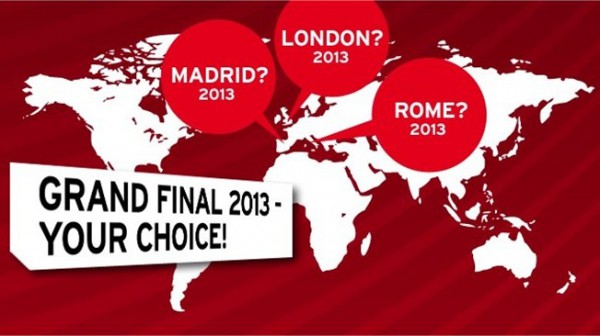 The shortlist of Grand Final destinations consists of three European cities rich in history and culture. London, Rome and Madrid are all vying for the opportunity to host the world's largest gaming tournament. All three cities are world-class destinations that would surely deliver an unforgettable event, but it's up to you to decide which one!
How to vote
Simply select your favourite city in the 'Which city should host the FIWC13 Grand Final?' poll located here and submit your vote. Voting closes on 27 August. The winning city will be announced on FIFA.com. You can only vote once, so make it count!
A perfect host
Adam Winster, former UK champion and FIWC11 semi-finalist, feels confident that London would be a perfect place host for the next Grand Final.
"It's the ideal location! This city is so diverse. You can spend weeks here and feel like you only know one tiny part of the city…and thanks to the Olympic games we wouldn't have to renovate the stadiums for FIWC13!"
Winster said with a grin.
The Eternal City
With its ancient sights, culinary tradition and passion for football, Rome would be an elegant and exciting choice for FIWC13. The Eternal City has hosted several historic football events including the finals of the 1934 and 1990 FIFA World Cup™. FIWC10 Grand Finalist Mattia Guarracino told FIFA.com.
"We Italians are known for our hospitality, our love of football, and gorgeous summers, where could you have a better Grand Final than in Rome?"
Home of legends
Defending champion Alfonso Ramos would be thrilled to battle for the FIWC13 title in the Spanish capital.
"Madrid would be an ideal location in order to write a new history and complete my hat-trick. In my native land I'm even more difficult to beat!"
Said the two-time champion. The hometown of Real Madrid is sure to be the host of choice for fans of Los Merengues and winning the FIWC title in a city that so many football legends have called home would be the opportunity of a life-time for many FIWC players.
London, Rome or Madrid? You decide! Vote for your favourite city now. Voting closes on 27 August.