Spencer Ealing (@Huge_Gorilla) has battled his way past 38 players to win Qualifier 2 in the Squawka Cup FIFA 15 tournament, in association with the European Gaming League (EGL) and earned his trip to the Grand Final in London.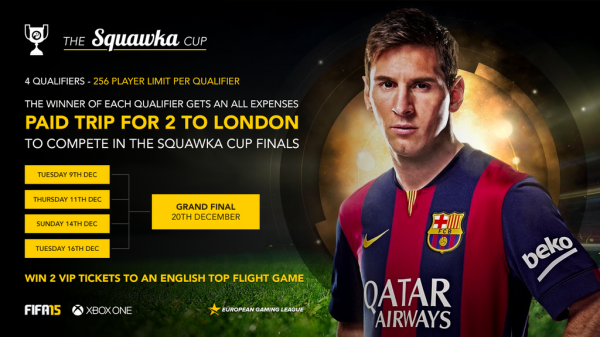 Spencer Books Trip to London
After knocking out TCM Gaming's Pro Gamer Olly Shaw in the quarter final, Spencer won a hard fought final 2 games to 0 (4-0 and 5-4), winning the best of 3 final against former FIWC World Champion Chris "ChriSSyB" Bullard.
Check out the bracket from Qualifier 2 to see how Spencer progressed in making his way to the Grand Final in London later this month.
This victory sees Spencer travelling to London for the Grand Final on Saturday 20th December and to be in with a chance of winning 2 VIP tickets to an English top flight game.
Qualifier 3
Qualifier 3 takes place this Sunday from 6pm.  Check back then for all the night's coverage as the next set of players battle it out to join Matthew Cross and Spencer Ealing in London.
About Squawka.com
With the likes of Sky Sports and the BBC dominating sports coverage online over the last decade, it's no easy task to compete with the big guns. But Squawka, the next-generation media company, is doing just that and has become one of the largest football sites in the UK.
Using football data to help fans understand the game, Squawka technology visualises over 500 million data points during a 90 minute football match. It then uses the results to create content and engages with the audience through articles and features.