Enter the Squawka Cup FIFA 15 tournament, in association with the European Gaming League (EGL), to be in with a chance of winning 2 VIP tickets to an English top flight game in January 2015.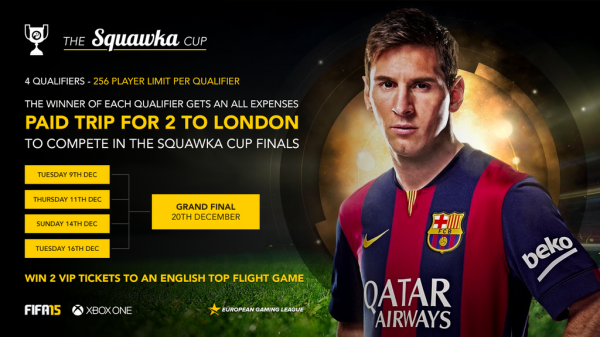 How to Qualify
The competition will take part in stages;

there are 4 Online Qualifiers with the winner from each earning their place in the Grand Final

Tuesday 9th December
Thursday 11th December
Sunday 14th December
Tuesday 16th December

and then the Grand Final

Saturday 20th December

Make it through the Online Qualifier to earn your place in the Grand Final
Rules
This competition is open to any standard of FIFA player.
The competition is only open to UK users.
You must have an Xbox One and a valid Xbox Live subscription to compete.
How to Enter
Request an invite (Sign Ups Now Closed!)
Request a free invite to play in the Squawka Cup by entering your email in the box on their Registration page.
Check your email constantly
Squawka & EGL will conduct a random draw and send you an invite to the qualifiers for the Squawka Cup!
Confirm your place in the Online Qualifiers
Fill in the remaining fields on the Official EGL site to confirm participation in the tournament.
Get to the Grand Finals
Win your Online Qualifier and be entered into the Squawka Cup Grand Final.
Good Luck and Please Share
Good luck to everyone who enters and please click image below to Tweet and Share this news with your FIFA friends so as many people can enter as possible.

About Squawka.com
With the likes of Sky Sports and the BBC dominating sports coverage online over the last decade, it's no easy task to compete with the big guns. But Squawka, the next-generation media company, is doing just that and has become one of the largest football sites in the UK.
Using football data to help fans understand the game, Squawka technology visualises over 500 million data points during a 90 minute football match. It then uses the results to create content and engages with the audience through articles and features.