Game-centric video web site Twitch TV announced that it has finalized a $20 million Series C investment round and will be using the funds to build up infrastructure in advance of an anticipated boom in new users with the launch of Xbox One and PS4.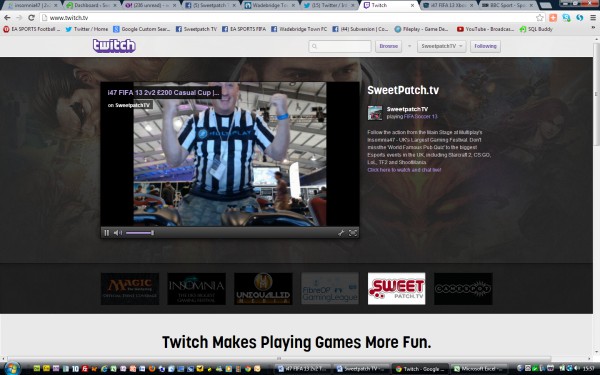 Twitch provides a platform that allows game fans to watch live and recorded streams of video game tournaments, and to stream video of their own games and programs. The site has exploded in popularity since it was spun off from "lifestreaming" web site Justin.tv in June 2011, racking up more than 45 million unique viewers in August 2013 alone.
Lin says that the new investment round will help the San Francisco-based company expand its sales team, and also to add new capacity before new video game hardware from Microsoft and Sony hits shelves in November. Both new consoles include integrated support for broadcasting and viewing Twitch videos.
Says Lin:
With the Xbox one and PlayStation 4 integrations coming out we're going to see a lot of new broadcasters entering the space, and a lot of new viewers watching.
Chris Paik, Partner at Thrive Capital, in a statement said:
Twitch is a company that we see riding multiple waves both in gaming and online video.  By providing gamers a new way to express themselves, Twitch has built a strong, passionate and fast growing community around itself.
From Twitch's official blog:
Since the summer of 2011, the Twitch audience has grown from less than 5 million unique viewers per month to more than 45 Million. We launched our Partner Program; created a gaming scholarship; launched iOS, Android, and Xbox 360 apps; created a Software Development Kit; integrated with Call of Duty: Black Ops II; announced partnerships with Xbox One and PS4 (among lots and lots of other fun stuff), all while scaling our infrastructure to match the growth of our broadcasters and the audience they attract. We're proud of what we've done and how far we've come, but we're not anywhere near finished.

All the while, we've done our very best to keep you all informed of what we're doing and where we're going. So what does this investment mean for you – our broadcasters and viewers? It means that we can continue to work on the things you care about. It means we can continue to scale our infrastructure to deliver a high quality video and chat experience to all corners of the globe. It means we can continue doing great things with games industry partners like Microsoft, Valve, Sony, Ubisoft, EA, Activision Blizzard, Riot, and on and on. And it means we can hire the people we need to make those things happen.

We have big plans for the future, and no plans to slow down.
This is great news for the gaming and competitive gaming community as we all look to take advantage of the benefits that the Next-Gen consoles will bring all of us.
Check out our very own Twitch TV Channel and see when we appeared on their homepage!