That's right folks, just before we all celebrate the launch of FIFA 15, 15 years ago today the FIFA dream of Sweetpatch TV was born as the site first appeared on the Internet. Join us today as we celebrate the past 15 years and look forward to this week's FIFA 15 launch.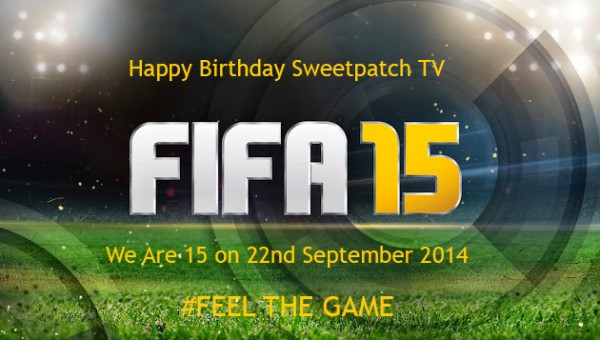 Wow 15 Years!
On the 22nd September 1999 the first version of the design specification for the FIFA Multi Roster (FIFA-MRA) to help FIFA PC players manage their Patches appeared. Ever since then we have brought you FIFA news and more recently become the home of Competitive FIFA.
We have come a long long way and thank you to everyone for helping us become what we are today.
FIFA 15 Birthday Launch Tournament
To celebrate our 15th birthday and the launch of FIFA 15, in a few weeks time when everyone has got used to the game, we will be running a launch tournament. We would very much like your views on what format of tournament you would like us to run and also on which console. Please leave your recommendations below in the Comments section.
FIFA 15 Season at Sweetpatch TV
We have lots of awesome FIFA 15 Competitive FIFA excitement for you and we will be announcing this all soon. We especially look forward to the return of the FIFA Masters Series and much more attendance back at UK LANS.
Thanks To You All
Without you, all our regular fans, we would never have the motivation and desire to keep what we do week after week. Thank you all so much and please feel free to leave your compliments and recommendations for FIFA 15 below.
Thanks finally to all the loyal staff who have worked on this project over the last 15 years, especiallyJamie Gilbert, Steve Dooley, the Morrison Brothers of Nidge and Aubs, the Back of the Net Podcast Crew and my brother from another mother Wepeeler.