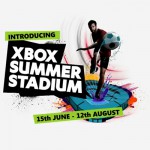 The Xbox Summer Stadium brings you an 8-week calendar of the best sports entertainment and gaming, including a season-long tournament and weekly challenges to celebrate the extraordinary human feats and historic events happening over summer 2012.
It kicks off on 15th June and includes a FIFA 12 Challenge! More news coming soon.
There'll also be a raft of prizes to win and even a Guinness World Record to smash — don't miss a thing…with Xbox.
Learn all about the Xbox Summer Stadium in this video below.
httpvh://www.youtube.com/watch?v=HaMj5IzNbj8