Campus Party is the biggest electronic entertainment event in the world. It's a weeklong, 24-hours-a-day technology festival for thousands of "campuseros" – hackers, developers, gamers and geeks. Equipped with computers and other toys, they camp on-site and immerse themselves in a truly unique environment. It kicks off today and their $10,000 FIFA 12 tournament kicks off on Wednesday.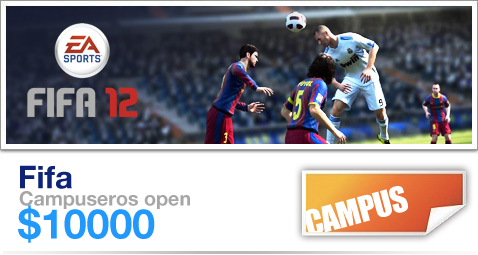 Since 1997, Campus Party has brought together the best young technical talent across Europe and Latin America to innovate, learn and engage with some of the biggest names in technology and science.
Join them from August 21 to August 26 at Berlin's historic Tempelhof Airport to re-type Europe's source code and immerse yourself in a unique environment where workshops, hackathons, competitions and talks take place simultaneously.
FIFA Campuseros Open $10,000
The 128 players will be divided into 4 groups with 32 players each. Each of the 32 player group will play a normal World Cup style, meaning that it starts with a group phase of 4 players each (top 2 advance) followed by a single elimination (Bo3). The top 2 of each 32 player group will advance to the grand finals where they will play against the two best players from the other groups. A total of 10 matches will be played if you reach the grand finals. You can only participate in one of 32 player groups.
[table "" not found /]

Team Sweetpatch TV player Gary Harvey is attending and you can watch his Twitter Stream for all the latest news dirct from the FIFA 12 tournament @ Campus Party.