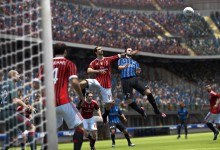 As announced today at E3, FIFA 13's innovations to include new In-Game Rewards Program and new App for iPhone & iPod Touch.
Electronic Arts Inc. (NASDAQ: EA) announced today at E3 that EA SPORTS™ is bringing innovations to EA SPORTS Football Club that will elevate its role as football's social network, and drive a deeper connection for millions of fans to the world's sport, their friends and their favorite club when FIFA 13 launches this fall. A new rewards program introduced into FIFA 13 will enhance the experience for members of EA SPORTS Football Club, and a new EA SPORTS Football Club app for iPhone® and iPod® touch will keep the fans connected to their FIFA experiences and to their friends. Plus, the forthcoming FIFA 13 for iPhone, iPad®, iPod touch and later this year on Android, will now also be connected to EA SPORTS Football Club.
"We connect fans to the heartbeat of the sport—and to each other—through EA SPORTS Football Club,"
said Matt Bilbey, General Manager and Vice President of Football, EA SPORTS.
"We've had a transformative year operating as a live service, connecting players to real-world football events with fresh, new content, enabling them to support their favourite club, and allowing them to connect and compete with their friends. This year with the launch of FIFA 13, we are going to reward our fans for their support, offer in-game incentives to keep them playing longer and all season long, and provide new ways for fans to stay connected to our game across multiple devices and platforms."
This year within EA SPORTS Football Club, returning FIFA 12 players will carry their Football Club Level and XP into FIFA 13 so their season starts as strong as it finishes. They'll also receive a special bonus in the new EA SPORTS Football Club Catalogue. Everything within FIFA 13, and against friends, is measured in a meaningful way. Every match matters, all season long, and fans can earn rewards for their achievements. Fans will now be earning Football Club Credits to unlock items such as kits, special celebrations, virtual pro attribute boosts, Career Mode super scout credits, FIFA 13 Ultimate Team coin boosts, and extra matches in Head-to-Head Seasons mode from the Catalogue. Plus, fans can build their status among the massive FIFA online community as they climb 100 levels.
For the first time, players will be able to directly share their FIFA experience with their friends on Facebook through EA SPORTS Football Club. Fans will be able to share custom messages with friends and publish their recent news, including games won, players signed, or items redeemed in the Catalogue, directly from their console.
The new EA SPORTS Football Club app will keep fans connected to FIFA anywhere, anytime. At launch, fans will have access to their EA SPORTS Football Club identity and friends, and the app will extend the FIFA 13 Ultimate Team console experience. Through the app, fans will be able to search the live auctions and bid to win new players for building their ultimate team of the world's best players in FIFA 13.
For the millions of fans who play FIFA on the go, FIFA 13 on iPad and iPhone will enable players to earn rewards, level up, enjoy live challenges, and connect with friends through one common Football Club identity. The same Football Club features will be coming to Android later in the year.
FIFA 13 captures all the drama and unpredictability of real-world football. The game creates a true battle for possession across the entire pitch and delivers freedom and creativity in attack. FIFA 13 features five breakthrough gameplay innovations which revolutionize artificial intelligence, dribbling, ball control and physical play, as well as engaging online features and live services.  This year marks the largest and deepest game in FIFA franchise history.
FIFA 13 will be available in stores world-wide this fall for the PlayStation®3 computer entertainment system with PlayStation Move support, Xbox 360® videogame and entertainment system with Kinect™, PlayStation®Vita handheld entertainment system, Wii™, PC, PlayStation®2 computer entertainment system, Nintendo 3DS™, and PSP® (PlayStation®Portable) system, as well as on the App Store for iPhone, iPad, iPod touch, and Android. The game has not yet been rated.