Sweetpatch TV and our partners at the FVPA are pleased to announce the first ever offline FIFA Pro Clubs pilot event at i46 – Multiplay Insomnia, The UK's biggest gaming festival. This event will be a pilot for future Pro Clubs offline events.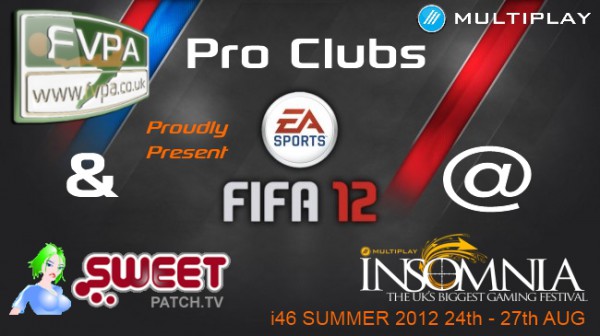 As with any competition it takes a lot of planning and organisation and being offline the logistics will be very challenging – Therefore we are looking for Managers who know they can make iSeries i46 at Telford and bring Players to make up teams of at around 6. The event will take place on Sunday 26th August.
Whilst we work on the technical details and ensure that this can go ahead without issue, the most important aspect of the Pilot scheme is who wants to join us at i46? Not only does it give you and your team a chance to compete against others in the same room, it's also a chance for us to meet the people we interact with every day on the FVPA and Sweetpatch TV.
Are you in? Let us know if you want to attend this event ASAP – If your already going to i46 let us know too !
At the moment we are planning this pilot event on Xbox – we will update if there is any change
Join the Discussion – Q&A's in the Forum.
i46 runs from 24th to 27th August at the Telford International Centre and we will also be looking to run the following FIFA 12 activities (to hopefully be officially confirmed by Multiplay this week):
Friday = FIFA Free Play Day – open day for any players to come along and play FIFA (FIFA 12 and FIFA Ultimate Team) against their mates and other players. We will also run mini tournaments as and when enough players are in the arena.
Saturday = Main FIFA 12 1v1 Tournament
Sunday = FIFA 12 Pro Clubs Pilot Tournament (based on Ryder Cup format). FIFA Clubs teams of 6 (maybe 4) players will play in a set of 6v6 (maybe 4v4), 2v2 and 1v1 matches to find the i46 FIFA 12 Pro Club Champions
Monday = 2v2 Tournament + FIFA Free Play Day – come along and play FIFA with your mates and enter a 2v2 tournament at the same time