As we prepare for FIFA 12 at i46, GameSpot have just released this video about Spectator gaming becoming a growing trend, but why on earth would people watch other people play games? GameSpot gets some perspective from a live-streamer, a viewer, and a developer and we would very much like to get your feedback in advance of i46 of what you would like to see.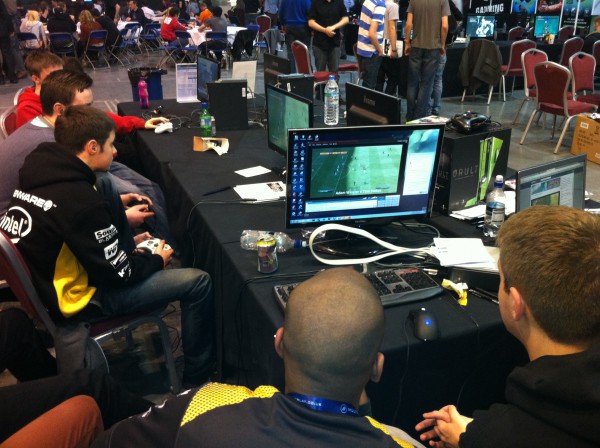 Check out GameSpot's video focusing on Spectator Gaming here:
httpvh://www.youtube.com/watch?v=Stz5OCQ3u1Q
At i45 we streamed the whole time as we featured key games throughout the 1v1 and 2v2 tournaments.  You can see all our videos from i45 here:
i45 FIFA 12 1v1 Multiplay Cup
httpvhp://www.youtube.com/playlist?list=PLB4E75987FC0A69B1
i45 FIFA 12 2v2 Tournament
httpvhp://www.youtube.com/playlist?list=PL3FFAA9A71F4A7127
i46 runs from 24th to 27th August at the Telford International Centre and we will also be looking to run the following FIFA 12 activities (to hopefully be officially confirmed by Multiplay this week):
Friday = FIFA Free Play Day – open day for any players to come along and play FIFA (FIFA 12 and FIFA Ultimate Team) against their mates and other players. We will also run mini tournaments as and when enough players are in the arena.
Saturday = Main FIFA 12 1v1 Tournament
Sunday = FIFA 12 Pro Clubs Pilot Tournament (based on Ryder Cup format). FIFA Clubs teams of 6 (maybe 4) players will play in a set of 6v6 (maybe 4v4), 2v2 and 1v1 matches to find the i46 FIFA 12 Pro Club Champions
Monday = 2v2 Tournament + FIFA Free Play Day – come along and play FIFA with your mates and enter a 2v2 tournament at the same time
To ensure we provide the very best Spectator experience for you, we really would appreciate your feedback on what you would like to see us deliver and then we can prepare for the next month to deliver as much as is achievable for you.
So what would you like to see us provide for your Spectator enjoyment?