Breaking News – FIFA 14 is now available as a free download for mobile devices!  REAL PLAYERS. REAL TEAMS. REAL LEAGUES. Welcome to the most authentic football game on a mobile device. Feel the excitement of every pass, shot, and tackle with new touch controls. Plus, live every moment of real-world football mastery with EA SPORTS™ Football Club Match Day. Get in there!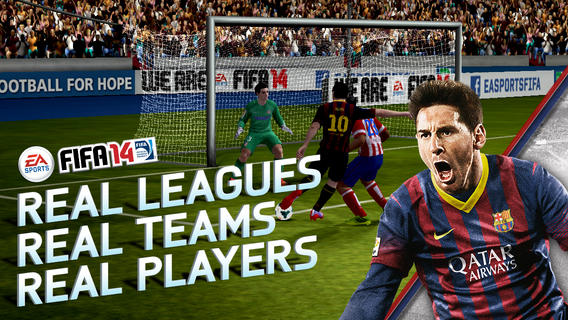 Find the game while browsing the App Store℠, Google Play™ and Amazon Appstore.
Requires: iOS 5.0 or later; Android 2.3.3 and up.
Compatible with: iPhone 4, iPhone 4S, iPhone 5, iPad, iPad 2, iPod touch (4th and 5th generations).
Watch the Mobile Trailer
httpvh://www.youtube.com/watch?v=Kh3F3BSZamc
Download FIFA 14 Demo Now
Download the demo via one of the links listed per platform.
Pre-Order Your FIFA 14 Now!
Excited and want to pre-order your copy of FIFA 14? Then visit our FIFA 14 Store NOW!