Join Sweetpatch TV and our partners at Mad Catz to kickoff Eurogamer with an event to remember this Thursday, Mad Catz UNVEILED! As well as hosting the final of the FIFA tournament live between Bagel Boy and Mike Childs, the finalist will get the opportunity to play Mad Catz' very own YouTube sensation, KSI, live on stage and streamed globally on the eve of the launch of FIFA14!  Find out what else will be going down at Mad Catz UNVEILED right here…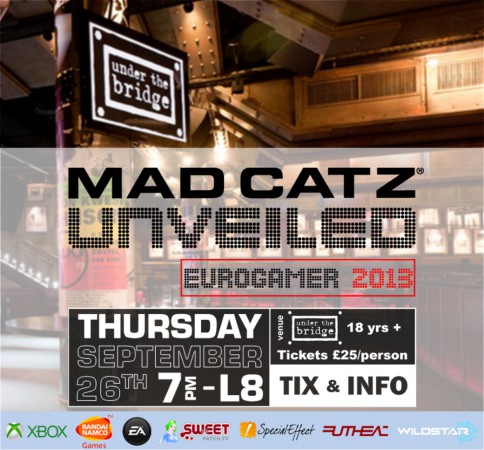 The Event
Are you ready London… for Mad Catz UNVEILED? An exclusive event! Come join us for some hands-on time with pre-release titles before they hit store shelves, meet industry insiders, and some one-on-one time with the Mad Catz professional gamers.
Score!
As well as hosting the final of our FIFA tournament live, the finalist will get the opportunity to play our very own YouTube sensation, KSI, live on stage and streamed globally on the eve of the launch of FIFA14!
Play!
Mad Catz UNVEILED is all about the games. We're hooking up with some of the biggest publishers to give you playable previews of the hottest games. Don't wait in line; come try them first at Mad Catz UNVEILED!
Explore!
Want to check out our latest peripherals? We'll have all our new gear for you to test on all the latest hardware!
Watch!
Watch the whole event live over on Mad Catz 's Twitch TV Channel.
Pre-Launch Games!
FIFA14 by EA on X360
Dark Souls II by Namco Bandai on PS3
Beyond Two Souls by Sony on PS3
WildStar by NCSoft on PC
Get Your Hands On!
Mad Catz M.O.J.O. Android Micro-Console
Saitek Pro flight Simulator Cockpit
Play!
PayDay2 by 505Games on PC
Total War ROME II: Sega on PC
Saints Row IV by Deep Silver on PC
World of Warplanes by Wargaming on PC
Bioshock Infinite by 2K Games on PC
FIFA13 by EA on X360
Tekken Tag Tournament 2 by Namco Bandai on X360
Super Street Fighter IV by Capcom on X360
World of Tanks by Wargaming on X360
The Location
With a FIFA-esqe theme to the evening, where better to host the event than the exclusive West London club: Under The Bridge?
The uniquely stylish venue, set under Chelsea FC's Stamford Bridge, is purpose-built for live events and features stunning, state-of-the-art sound and lighting
Join Mad Catz and Sweetpatch TV for the Ultimate Eurogamer Gaming Experience!
When: Thursday, September 26, 2013
Where: Under The Bridge, Stamford Bridge, Fulham Rd, London SW6 1HS
Time: 7:00pm – late
Admission:£25* (Ages 18 & Over) *A percentage of ticket sales will be donated to Special Effect Registered Charity (Reg. Charity No: 1121004) – BUY TICKETS NOW!