For the first time, players in FIFA 14 will be able to anticipate and respond with human-reactions through Pro Instincts. Players now have full awareness and context of what is unfolding around them – transforming physical play in the beautiful game.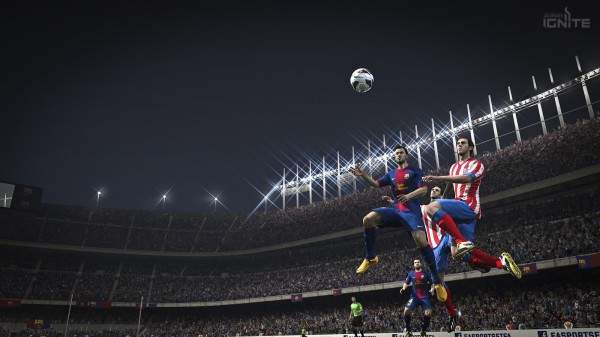 Pro Instincts is made possible by EA SPORTS IGNITE that will power FIFA 14 on Xbox One and PlayStation 4. EA SPORTS IGNITE features Future Physics technology that enables players to quickly analyse potential outcomes of what is about to occur around them. This infuses each player with human-like awareness, anticipation, instincts and most importantly, reaction times. All 22 players on the field now make intelligent decisions like they would in a real match, such as anticipating tackles, avoiding tacklers or bracing for physical challenges.
With Pro Instincts, an attacking player will be aware of their opponents and can use an arm or turn their body to shrug off the challenge. Previously, players did not have this context of their surroundings, resulting in unrealistic and frustrating collisions with the opponent. In FIFA 14 they will recognize an oncoming slide tackle and be able to adjust their body movement to avoid the defender's leg.
In unavoidable collisions, both players will brace themselves for the impact and extend their arms to break their fall or stumble as they try to regain their balance. For defenders, it is now possible to win the ball by gaining body position on a player and not having to rely solely on a tackle.
Some examples of new FIFA 14 player movements made possible by Pro Instincts are:
Leg avoidance: players are able to skip over slide tackles and outstretched legs
Players can grab limbs when pushing/pulling
Arm locks while jostling for possession
Greater variety and new types of seal-outs
Bracing for ground contact when losing balance and falling
Pro Instincts will dramatically change the way each match is played. Organically avoiding tackles and using body positioning to win the ball will make matches feel natural and life-like.
Do you think it will make a real difference to the gameplay?
Release Details
FIFA 14, developed at EA Canada, will release worldwide within the next 12 months on Xbox One and the PlayStation 4, and is available for pre-order below. A version of FIFA 14 will also release in North America on September 24 and worldwide on September 27 on:
the Xbox 360® games and entertainment system with Kinect™ from Microsoft,
PlayStation®3 computer entertainment system with PlayStation Move support,
Windows® PC,
Nintendo Wii™,
Nintendo 3DS™,
PlayStation®Vita handheld entertainment system,
PlayStation®2 computer entertainment system, and
PSP® (PlayStation®Portable) system
FIFA 14 on mobile will be available on iPhone®, iPad®, and iPod® touch as well as Android devices this fall. Other mobile platforms will be revealed later.
Pre-Order Your FIFA 14 Now!
Excited and want to pre-order your copy of FIFA 14? Then visit our FIFA 14 Store NOW!