At their E3 Press Conference EA announced that EA SPORTS™ FIFA 14 will feel alive with players who think, move and behave like world-class footballers, and dynamic stadiums that come to life, on Xbox One®, the all-in-one games and entertainment system from Microsoft, and PlayStation®4. Fuelled by EA SPORTS™ IGNITE, which blends new technology with the best rendering, run-time physics, animation, intelligence, locomotion and online systems from across EA into one powerful, new engine, FIFA 14 will elevate its award-winning gameplay to new heights.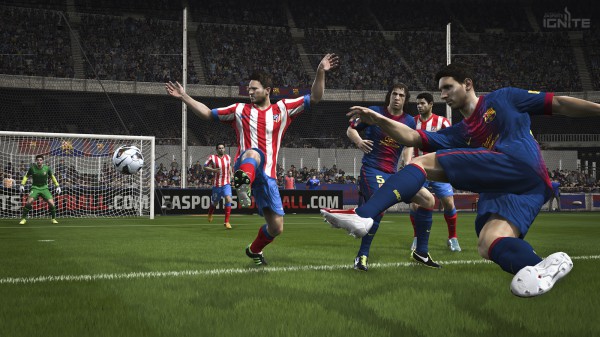 For the first time ever, fans will feel the electricity of a living stadium, and experience the majesty of the world's greatest football theatres. Players now have four times the decision making ability than the current generation of footballers in EA SPORTS FIFA, enabling each player to have Pro Instincts—human-like reactions, anticipation, and instincts. The leap forward in intelligence is matched by innovations that deliver true player motion. Now in FIFA 14, every step matters with Precision Movement that enables players to explode out of each step and every turn like real athletes, preserving their natural momentum. Plus, the artistry and athleticism of footballers will come to life with Elite Technique that world class players express in every match.
Innovation is the engine that drives our FIFA team and this year we're building the most technologically advanced and authentic sports experience in history. FIFA 14 on next gen consoles will feel alive with players who possess human-like intelligence, reactions and instincts, players who move and behave like real athletes, and stadiums that buzz with electricity and excitement.
said David Rutter, Executive Producer of the EA SPORTS FIFA franchise.
FIFA 14 will have stunning accuracy and visuals and the world inside the stadium comes alive as the emotions of new 3D crowds rise and fall around the stories on the pitch. Players are also aware of the match and what needs to be done to get a result—their sense of urgency increases as the match draws on, and if a goal is needed, they rush to take a throw-in, corner or goal-kick if time is running down.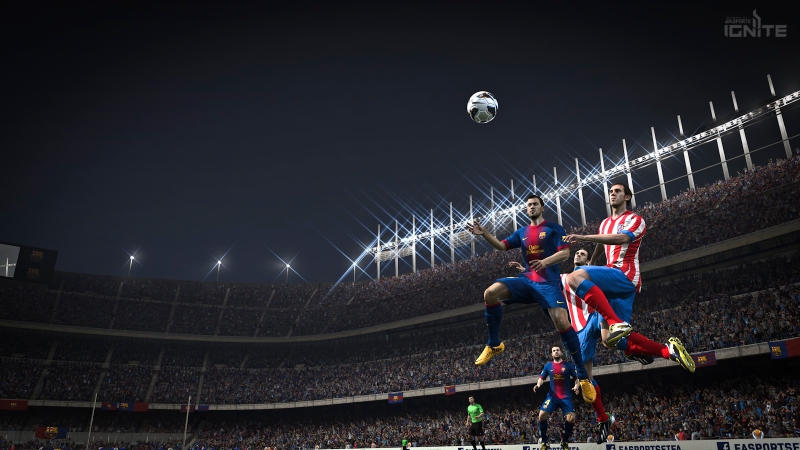 Players in FIFA 14 will make intelligent decisions with human-like anticipation and reaction times. All 22 players on the pitch possess Pro Instincts to anticipate and react to the play around them, just like world-class footballers. Players will move more instinctively with the ball, anticipating and reacting to tackles by skipping over out-stretched legs to avoid collisions, using stiff arms to fend-off defenders or to brace for collisions, and turning their bodies to brush through contact. Defenders will anticipate moves to seal off opponents and intercept passes, and slow down attackers by hooking or holding an arm.
With 10 times more animation depth and detail, EA SPORTS IGNITE delivers the dynamic movements and biomechanics of the world's best footballers. Precision Movement enables players to plant, pivot and cut, and explode out of each step. The fidelity of movement has a game-changing effect on gameplay. Players feel more grounded, agile and athletic, and manage their momentum with distinct foot plants and push-offs, bringing the authentic motion of professional footballers to FIFA 14. Harnessing the power and memory of the new consoles, FIFA 14 also delivers Elite Technique—hundreds of new skills, including new types of shots like side volleys, deflections and first time screamers, and new types of passes, such as touch, over-head, slice and lobs. Hundreds of new behaviours include trapping the ball in stride at pace, panic turns when defenders are beaten, off-balance shots, missed shot reactions, and more are a result of the massive increase in memory of the new consoles.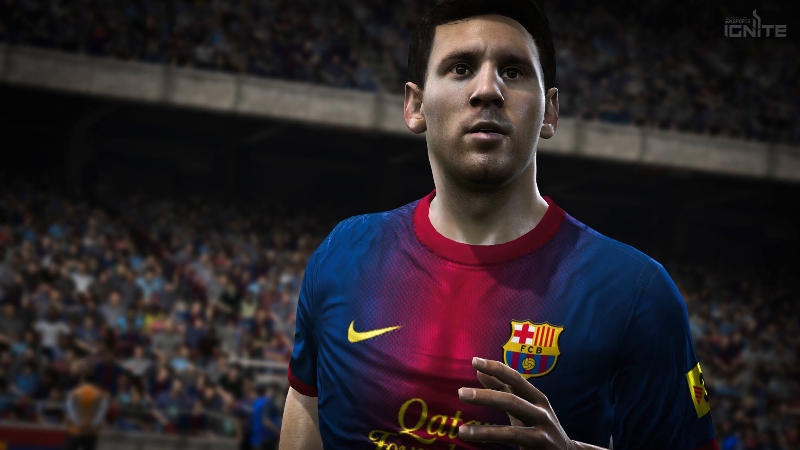 FIFA 14, developed at EA Canada, will release worldwide within the next 12 months on Xbox One and the PlayStation 4, and is available for pre-order below. A version of FIFA 14 will also release in North America on September 24 and worldwide on September 27 on:
the Xbox 360® games and entertainment system with Kinect™ from Microsoft,
PlayStation®3 computer entertainment system with PlayStation Move support,
Windows® PC,
Nintendo Wii™,
Nintendo 3DS™,
PlayStation®Vita handheld entertainment system,
PlayStation®2 computer entertainment system, and
PSP® (PlayStation®Portable) system
FIFA 14 on mobile will be available on iPhone®, iPad®, and iPod® touch as well as Android devices this fall. Other mobile platforms will be revealed later.
Pre-Order Your FIFA 14 Now!
Excited and want to pre-order your copy of FIFA 14? Then visit our FIFA 14 Store NOW!