Congratulations to underdog George "TheGreek" Tsirita who was crowned the FIWC FIFA 13 UK Champion tonight beating Ty Walton 3v2 in the Final of the UK Territory Showdown. We were given an early taste tht an upset might be on th books as George beat Adam Winster in his first match 3v0.  Check out all the video coverage from the tournament at White Hart Lane.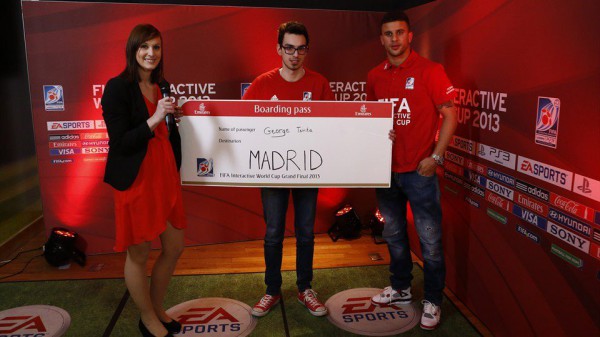 Replay: FIWC 2013 – UK Territory Showdown
Watch the replay of all the games from the event here.
George's Path to Victory
In his first match George took on previous UK FIWC Champion Adam Winster and he cruised to a very impressive 3v0 victory.
In the second match the other online qualifier Samuelson Anjorin drew with Adam Winster, that was Adam out.
In the third match George took on Samuelson Anjorin  and ran out 2v0 winner.  That meant George had 6 points with Sam and Adam both on 1, so George progressed to the Grand Final.
On to the Grand Final where Ty Walton awaited George.  George was 1v0 up at half time and took a further lead in the 2nd half before Ty pulled one back.  George scored his 3rd and deciding goal before Ty pulled one back very late in injury time.  The final whistle went and George was our new deserved champion.
Territory Showdowns
Territory Showdowns are an exciting new qualification method for the FIFA Interactive World Cup. At a Territory Showdown, the previous year's national champion is joined by the best three online players from his country for a high-stakes live competition. The winner of a Territory Showdown will receive a seat at the FIWC13 Grand Final.