Congratulations to Maximo Ibanez as he secured his first ever seat at a FIFA Interactive World Cup Grand Final with victory in the Spain Territory Showdown held on 4 April at the Mestalla Stadium in Valencia.  Watch all the coverage here hosted by our very own Sabre0001.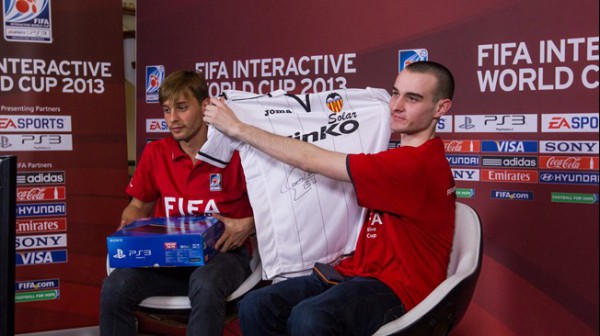 Replay: FIWC 2013 – Spain Territory Showdown
Watch the replay of all the games from the event here with our very own Sabre0001 hosting the event.
Maximo's Path to Victory
Ibanez was able to navigate his way past two former Grand Finalists, Rafael Riobo (2011) and David Arboli (2012), on his way to securing the national title and his first ticket to the FIWC main event. Ibanez said, speaking exclusively to FIFA.com after the final
"I know how to control the nervousness. I only was concerned about playing at my best level."
The Spain event was live streamed to a global audience on FIFA.com and on FIFA's official YouTube channel. Virtual football fans were able follow all the action of the two-hour showdown and enjoy live commentary from former Scotland and Bayern Munich forward Alan 'Big Mac' McInally. Valencia midfielder Sergio Canales joined McInally in the commentary box for the Final and fielded questions submitted by fans on Twitter. Canales embraced the opportunity to challenge the new Spanish champion to an exhibition match, bringing to a close an eventful day of virtual football at the Mestalla.
"I really enjoyed the day's activities but my favorite moment was when I was proclaimed the champion. I really enjoyed the experience of playing a FIFA 13 tournament in a football stadium,"
said Maximo, reflecting on his day at Valencia.
"This means a lot of happiness," Ibanez said, holding his ticket to the Grand Final and posing for photographs. "In Madrid I will play against some of the best FIFA 13 players and I will get to see what my real level of gaming is."
Also in attendance at the Spanish qualifier was reigning FIWC champion Alfonso Ramos. Having secured automatic qualification for next month's Grand Final, the two-time champion is looking to extend his FIWC record to three titles.
"This year I'm playing really well, better than in 2012. But newcomers like Ibanez are playing really well too. He'll be a tough opponent at the Grand Final."
Dortmund is up next
With online qualification wrapped up and only one Territory Showdown remaining next month's FIWC13 Grand Final is rapidly approaching. Join FIFA.com on 17 April for the German Territory Showdown taking place at the home of Bundesliga giants and UEFA Champions League 2013 quarter-finalists Borussia Dortmund.
Territory Showdowns
Territory Showdowns are an exciting new qualification method for the FIFA Interactive World Cup. At a Territory Showdown, the previous year's national champion is joined by the best three online players from his country for a high-stakes live competition. The winner of a Territory Showdown will receive a seat at the FIWC13 Grand Final.