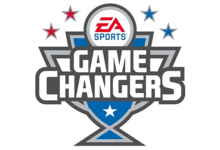 EA SPORTS Game Changers are high-profile members of the EA SPORTS community who use their expert knowledge of our games to inform, entertain and assist others. As well as exercising their talents for the benefit of the rest of the community, they also frequently work with us directly to contribute to the development and support of the games themselves with focused feedback. EA SPORTS Game Changers are independent of EA SPORTS, with separate opinions and perspectives, and are able to represent the views of the community members with whom they engage every day.
Current FIFA Game Changers include:
These guys were lucky enough to be flown out to E3 recently by EA SPORTS to check out FIFA 13.
The new EA SPORTS Game Changers website is now active, so why don't you check it out and sign up now to help make FIFA the game you all want it to be?
httpvh://www.youtube.com/watch?v=bCRl_zy6R1U
Fans are encouraged to reach out to gamechangers@ea.com to express why you should be considered for the EA SPORTS Game Changers program by answering the following questions:
Why do you want to be an EA SPORTS Game Changer?
Which EA SPORTS games do you currently play? What are you favorite features within those games?
What is your EA SPORTS Forum name, Gamertag/PSN ID, and name on Twitter? Do you have a YouTube channel? If so, what is the link to your channel?
Are you a member of any community sites? If so, which ones? What's your name on those sites?
Do you have a relationship with any of the current EA SPORTS Game Changers? If so, please list out their name(s).
The process to becoming a Game Changer is very selective and may take some time. Keep in mind that the number one thing you can do to get noticed is to stay active in the EA SPORTS Community and stay in contact. Whether you're posting your game ideas on the "My Game Idea" page, creating YouTube videos with our products, or just interacting with us on Facebook/Twitter/Community Sites, your activity will be noticed.
So who is going to sign up and what do you #wishfifawouldbe?