Ivan "BorasLegend" Lapanje from Sweden is a worthy Virgin Gaming Challenge Series Champion after beating pre-finalist favourite Rafael "Ralfitita" Riobó from Spain in the Grand Final 3v1 and wins himself $140,000.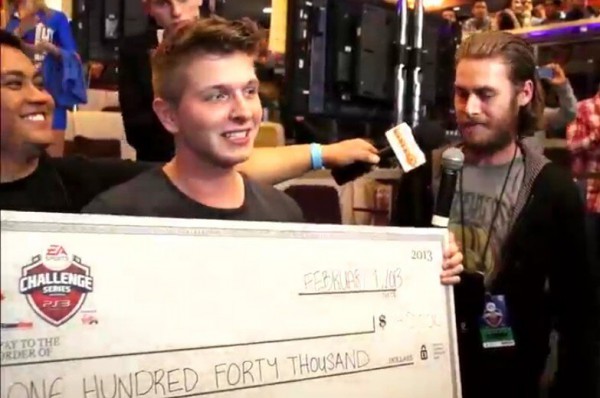 At the start of the tournament 256 of the world's best FIFA players converged on the Palazzo Hotel in Las Vegas for an exciting day of FIFA 13 competition.
Round 1
As early as the 1st round the shocks started to roll in.  Last years champion Adam Winster was drawn against his team mate from Team Dignitas Ty Walton.  Ty scored the winner in the 89th minute to knock Adam off his pedestal.
Other qualifiers from round 1 included our good friends Giuseppe Guastella, Tom Stokes,  Stephen Coorey, KSIOlajidebt, Danny Taylor, Alfonso Ramos, Olly Shaw, Dave Bytheway, Michael LaBelle, Julien Dassonville and Bruce Grannec.
Round 2
The shocks continued in Round 2 as Ty Walton was knocked out as was Dave Bytheway by TCM team mate Olly Shaw in extra time and Aman Seddiqi.
Round 3
Round 3 saw the players whittled down to the last 32 for when the Stream went live at the kick off of Round 4.  Unfortunately Team Sweetpatch TV player Giuseppe Guastella exited at this stage.
Round 4
The 1st game streamed in Round 4 was previous ESWC champion Adrien Viaud vs last years runner up Bryan Moeyaert.  What you thought would be a close game was far from it as Adrien ran out 5v0 winner.
Round 5
At the end of Round 4 16 players remained including some of the pre tournament favourites including Bruce Grannec, Rafael "Ralfitita" Riobó, Adrien Viaud, Alfonso Ramos, Danny Taylor and Tom Stokes.  Surprisingly we lost Bruce as he was beaten by Ralfitita.
Quarter Finals
In the quarter finals we had the following key match ups (with winners highlighted):
Tom "tdaniels" Stokes v Sofiane "Jack_Bauer92" Rabah
Paweł "Sanczezik" Jędrzejski v Ivan "BorasLegend" Lapanje
Azzurra v Alfonso "A_Ramos11" Ramos
Danny Taylor v Rafael "Ralfitita" Riobó
The streamed match was Tom Stokes (UK) v Sofiane Rabah (FRA) and Tom was expected to win it and went 1v0 up.  But to everyone's surprise French FIFA player Sofiane turned it around and ran out 2v1 winner to progress to teh semi finals.  Unknown Azzurra knocked out FIWC champion Ramos and Danny Taylor's challenge finished as he was dominated by Ralfitita.  Ivan quietly progressed in to the semi finals off evrybody's radar as Ralfitita was now the majority's favourite.
Semi Finals
In the semi finals we had the following key match ups (with winners highlighted):
Sofiane "Jack_Bauer92" Rabah v Ivan "BorasLegend" Lapanje
Azzurra v Rafael "Ralfitita" Riobó
The streamed match was Azzurra v Ralfitita which turned out to be a one sided affair as Ralfitita progrssed in to the final in dominant form and deserved of his "favourite" status.  In the other semi final Ivan won his way to the Grand Final.
Grand Final
Ivan went in to the final versus Ralfitita as the underdog and after just 3 FIFA minutes he went 0v1 down and everyone thought the favourite was looking good to wrap up the match very early on.  But then after quarter of an hour Ivan struck back levelling the match up.  It remained at 1v1 upto half time.
In to the 2nd half and Ivan started to dominate and scored further goals in the 54th minute with a great header and wrapped it up in the last few minutes to win 3v1 and overturn the odds and walk away from Las Vegas $140,000 the richer.
You can watch the full game below (fast forward to about 3:14:45).
Ivan was presented with his cheque for $140,000 by Virgin Gaming director Zack Zeldin and when interviewed Ivan responded with "I only got 5 hours sleep and felt so tired…" and also made everyone laugh when he said "I paid $50 for this stupid game and it win me $140,000!"
Congratulations to Ivan as he walked away a worthy winner and massive respect to Virgin Gaming and all involved for another excellent FIFA 13 Challenge Series.
Tournament Coverage
Check out all our coverage which we provided live during the event here…
Virgin Gaming FIFA 13 Challenge Series Grand Final
So after all the qualification events and mass hysteria, the day has arrived when we will find out who will be crowned Virgin Gaming Challenge Series FIFA 13 Champion. From 17:00 UK time, 256 of the world's top FIFA players will be whittled down to the final 2 to see who will be crowned champion.
Storified by Sweetpatch TV· Sat, Feb 09 2013 15:39:59
Not a bad day is it, few FIFA wins and he picks up this cheque for $140,000 wow! #ChallengeSeries #fifa13 http://pic.twitter.com/OvqCdAbBTheGregStarz
Scroll down
to appropriate round for all its latest news
Grand Final
2 Players from 16:00 PST/00:00 GMT
I'm more than happy to see @IvanLapanje winning #ChallengeSeries ! It's the best winner that @VirginGaming could have ! Bravo !Bruce Grannec
Great final, congrats to BorasLegend, $140,000 winner of the FIFA 13 EA Sports #ChallengeSeries!! Thanks for tuning in!ReDeYe
Boras legend? Can't imagine the training he's done xD. The way he was moving the ball xDJJ
What a game!! Fair play to the dude from Sweden :DJJ
@IvanLapanje Love it – "a stupid game wins me $140,000!" #ChallengeSeries #FIFA13 @VG_FootballSweetpatch TV
@IvanLapanje A worthy winner – congratulations #ChallengeSeries $140,000 :-)Sweetpatch TV
Que impotente me he sentido perdiendo, ahora mismo me da igual el dinero, os quiero a todos gracias!!!!!!!!!Rafael Riobó
@Ralfitita Congratulations mate – you did very well – unlucky in the final #ChallengeSeriesSweetpatch TV
Congratulations @IvanLapanje a worthy #FIFA13 #ChallengeSeries champion 3v1Sweetpatch TV
@IvanLapanje 3v1 and $140,000 #ChallengeSeriesSweetpatch TV
Wow what a goal by BorasLegend to take the lead 2-1 $140,000 Final #challengeseriesZack Zeldin
Amazing. @IvanLapanje (BorasLegend) takes the lead. #CornerLottery #ChallengeSeries http://bit.ly/11YSjwTVirgin Gaming
OMG 2-1 #CHALLENGESERIES #GOSWEDEN #JAAAAAAAAAAAAAAAAAAAAAAChop
What a header!! #54Mins 1 – 2 #ChallengeSeries$щєяvє
54 minutes and @IvanLapanje takes the lead 2v1 #ChallengeSeriesSweetpatch TV
Half time 1v1 #ChallengeSeriesSweetpatch TV
The FIFA @VirginGaming #ChallengeSeries finals. $140k to winner. Millions watching online. http://pic.twitter.com/xBal0JwITom Liston
What a final this is! 1-1 already! #ChallengeSeriesFIFANOW.com
Woah, the opening goal came in the 3rd minute of the #ChallengeSeries FinalFIFANOW.com
Ooh look – its Real Madrid v Real Madrid #ChallengeSeries FinalSweetpatch TV
Its kick off @Ralfitita (ESP) v @IvanLapanje (SWE) in Final of #ChallengeSeries – $140,000 to winner @VG_FootballSweetpatch TV
Grand final of the FIFA 13 $1million #ChallengeSeries is about to start! Tune in live http://www.twitch.tv/virgingamingReDeYe
Can you even IMAGINE what it would feel like to play a game of FIFA for $140,000? #ChallengeSeries (we're going for a lie down).VG Football
The FIFA13 Championship is ready to go at @Lagassesstadium! @Ralfitita from Spain vs @IvanLapanje from Sweden #ChallengeSeriesPalazzo Las Vegas
Its @Ralfitita v @IvanLapanje in Final of #ChallengeSeries – good luck guysSweetpatch TV
@IvanLapanje Good luck in the final of #ChallengeSeriesSweetpatch TV
@Ralfitita Congratulations on making it to Final of #ChallengeSeriesSweetpatch TV
Semi Finals
4 Players from 14:15 PST/22:15 GMT
@Ralfitita Congratulations on making it to Final of #ChallengeSeriesSweetpatch TV
FIFA Semi finals for EA #challengeseries starts in just about 5 minutes!therealgamespot
Jack_Bauer92 vs BorasLegend. Azzurra vs Ralfitita. These games are worth $40,000. Wow. #ChallengeSeries http://bit.ly/11YSjwTVG Football
Watch the @VirginGaming #ChallengeSeries Semi Finals with us on the Live Stream @VG_Football http://www.sweetpatch.tv/vg-challenge-series-live-stream/#.URa9jcEYp8s.twitterSweetpatch TV
We have our semi-finalists! Jack_Bauer92, BorasLegend, Azzurra and Ralfitita are in it to win it! #ChallengeSeriesVG Football
Come watch FIFA from Vegas! Semi finals up! http://Twitch.tv/GameSpot #challengeseries #greenshirtDanny O'Dwyer
We'll be honest. That means everyone we thought would win is now out. It's anyone's! #ChallengeSeriesVG Football
Quarter Finals
8 Players from 13:30 PST/21:30 GMT
Stokes placed 5th out of 256 live at the event. Thanks for all the support and to our sponsors @CherryKeyboards @GAM3RGLOV3S @HauppaugeHQTeam eNigma
Lost in quarterfinals, he drew me in 90 and scored me in the extra time with only 2 chances in the whole game. I have won 3.300$Alfonso Ramos Cuevas
.@Alfonso11Ramos loses on 1/4 finals in the extension time by 1-2 winning 3300$. Not bad at all. #ChallengeSeries #ProudOfRamos #WeAreGIANTSGIANTS! Gaming
Stokes is eliminated in Top 8 and was unlucky thanks to everyone who supported throughout the event #ChallengeSeriesTeam eNigma
I bottled it, apologise to everyone who's hopes I got up.DT
DT down 1-5. Ramos down again. Quarters will be jackbauer, rafa, azzura and borasLegend. I think I'm done watching. Gonna explore Vegas.Stephen Coorey
Jack Bauer's amazing goal seals a semi-final seat! #ChallengeSeries http://pic.twitter.com/eSpRqRkPVG Football
DT 0-4. Goal Ramos, 1-1. #ChallengeSeriesStephen Coorey
DT 0-2 down vs Rafa. I think Ramos is down too. #ChallengeSeriesStephen Coorey
@eNigma_Stokes goes 1 up and immediately its back to 1v1 #ChallengeSeries @VG_FootballSweetpatch TV
We're down to the final 8 at the @VirginGaming #FIFA13 #ChallengeSeries! Getting quite intense. http://pic.twitter.com/VOLwzseUKICKTV
Tom Stokes will win the tournament, Said it about a month ago before he got qualified. Inb4 he doesn't win and boraslegend does❤Adam Johnston❤
Apparently playing someone called jack Bauer lol… Need a break but looks like I'm next up… More luck pleaseStokes
ROUND OF 8 BRACKET @VirginGaming #ChallengeSeries #GOSWEDEN GO GO GO @IvanLapanje #GOSWEDEN http://pic.twitter.com/XiilCtizRAKAKA
Round 5
16 Players 12:45 PST/20:45 GMT
Finished Top 16 at Challenge Series Finals, not bad at all 🙂 @VirginGaming @EASPORTSFIFA #ChallengeSeriesJuho Järvelä
Star of FIFA Virgin Gaming Vegas so far obv @8bitKate_ looking so hot and happy. 1/4 Finals coming up #ChallengeSeries http://www.twitch.tv/virgingamingFIFAAddiction
I lost against @Ralfitita. Congratulations to him, i hope he'll get as far as possible ! #ChallengeSeriesBruce Grannec
Quarter-Finals INBOUND! Stokes wins vs Milenium Aquina on penalties! #ChallengeSeries #LetsGoStokesTeam eNigma
4-2 and I'm going to quarterfinals! 4-2 y a cuartos, recemos! #VamosRamosAlfonso Ramos Cuevas
Grannec is out. Rafa, DT and Ramos look like they're going through to the quarters. #ChallengeSeriesStephen Coorey
Watching @VirginGaming @EASports #ChallengeSeries, FIFA13. The Swede TheBorasLegend going for gold! http://rakaka.se/?newsID=20738Chop
Thank you guys for hosting a well organized #challenge series. @VG_Football @VG_Carl @VirginGaming @TwitchTVGiuseppe Guastella
More than 28 000 viewers on #ChallengeSeries stream ! Incredible !Bruce Grannec
Unfortunate for my friend @PaskieRokus , good luck to @AdrienViaud @BruceGrannec @Alfonso11RamosKoen Weijland
My game against @Ralfitita is about to be livestreamed on http://fr.twitch.tv/virgingaming !Bruce Grannec
@SweetpatchTV :DKate
Hey guys don't forget to send in questions you want to be answered LIVE at the @VirginGaming event using #challengeseries!Kate
The last 16 in the FIFA 13 challenge, for your reference. #ChallengeSeries http://pic.twitter.com/6xmtlefiVG Football
Round 4
32 Players from 12:00 PST/20:00 GMT
I won my round of 16 game 3-2 ! I'll play my my next game against @Ralfitita. BIG GAME ! #ChallengeSeriesBruce Grannec
DRAMA. @Alfonso11Ramos takes it in extra time to sneak into the last 16! Congrats! #ChallengeSeriesVG Football
Victoire 2 – 1. Place aux 1/8èmes maintenant. 3 Millenium dans le Top 16. C'est beauuu. GooooJulien DASSONVILLE
Stokes has yet to concede a goal in the tournament! #ChallengeSeries #LetsGoStokesTeam eNigma
Stokes advances into the the final 16 after a 1-0 win vs vVv Michs09 #ChallengeSeriesTeam eNigma
@AdrienViaud takes it 5v0 #FIFA13 #ChallengeSeries @VG_FootballSweetpatch TV
@SweetpatchTV Got a good few beers in hoping @Shawzi92 keeps me up late enough to finish them all !!!!TCM-Gaming
The next #ChallengeSeries game livestreamed will be @AdrienViaud vs Bryan Moeyaert ! – http://www.twitch.tv/virgingamingBruce Grannec
We are live on the #FIFA13 #ChallengeSeries Live Stream @VirginGaming @VG_Football | http://www.sweetpatch.tv/vg-challenge-series-live-stream/#.URarHhv_UTg.twitterSweetpatch TV
En 20 minutos @Alfonso11Ramos jugará en el mainstage (Streaming) del #ChallengeSeries. Pondremos el link aquí. #VamosRamosGIANTS! Gaming
You all ask for it, here's the @VirginGaming #ChallengeSeries bracket ! – http://pic.twitter.com/ogfajL25Bruce Grannec
Almost time to start! First up, FIFA 13 #challengeseries @gamespottherealgamespot
VG Challenge Series | Live StreamJoin us in the Live Stream direct from Las Vegas from 20:00 UK time/12:00 PST as the last 32 of the world's top FIFA players will be whit…
Round 3
64 Players from 11:15 PST/19:15 GMT
You guys have to defo try and enter next year :DJJ
Was in the top 64 in the world, so I'll take it :)JJ
Won third game 4-2, 4th round in 5 minutesDT
Lost in the round of 64 very disappointed. @SweetpatchTVGiuseppe Guastella
I won my 3rd game 2-0 over Jamie Hindou. Moving to round of 16 ! #ChallengeSeries – http://instagr.am/p/VhbbOWBSI2/Bruce Grannec
Victoire 1 – 0 au 4ème Tour. Tout les Millenium présent. Tous les 3 dans le Top 32. Goooo. Prochain match : Dans 30minutesJulien DASSONVILLE
Gagner 8-0, sa passe en 1/16 cntre bryann prochain match pour le mm match au mm tour que l an passeAdrien Viaud
That's 1-0 again, very close 83rd min ramiressssssStokes
Whats that?! Round 4 INBOUND! 1-0 Victory vs Scamz #ChallengeSeriesTeam eNigma
@SweetpatchTV @VirginGaming Still the same @BruceGrannecMatthew Cross
"@SweetpatchTV: So who is your favourite now to win the @VirginGaming #FIFA13 #ChallengeSeries now before round 3?"@KSIOlajidebt !!!Idris .I. W
So who is your favourite now to win the @VirginGaming #FIFA13 #ChallengeSeries now before round 3?Sweetpatch TV
Round 3 kicking off in 10 mins up against SkaMzZ uk playerStokes
Round 2
128 Players from 10:30 PST/18:30 GMT
Won my first game, then lost my second to utter luck. Good to see @michs09usa doing work though.Aman Seddiqi
I just won my second game round 5-1 again. Moving to round of 32. #ChallengeSeriesBruce Grannec
@VG_Football although next time i wont care… as i'll be there competing ;)David Coolledge
@VG_Football seriously next cs you need an online bracket… talk about annoying -_-David Coolledge
Dignitas Ty has been knocked out in Round 2 in a 1-0 defeat #ChallengeSeriesTeam eNigma
http://yfrog.com/odpkjnyj Stokes defending is on point so far! Did not have a shot against him! #ChallengeSeriesTeam eNigma
TCM Shawzi advances after a 4-2 shutout in extra time and advances to Round 3 #ChallengeSeriesTeam eNigma
Victoire 4 – 0 au deuxième tour.Julien DASSONVILLE
Extra time inblund in the TCM match-up! Stay tuned Intense Game!! #ChallengeSeriesWill [ eNigma RnB ]
Just won round two… 2-1JJ
He's done it! Stokes advances to Round 3 after a 1-0 win vs @tyler_soap good games all around! #ChallengeSeriesTeam eNigma
Given a bye in my second round match, next game is in half an hour.DT
Watching @BruceGrannec game 2 round @VirginGaming #ChallengeSeriesFred Vasquez
Another team kill inbound TCM Davebytheway & TCM Shawzi are facing up against each other in Round 2 #ChallengeSeriesWill [ eNigma RnB ]
Round 1
256 Players from 09:00 PST/17:00 GMT
KSI at Virgin Challengescoorey
KSI at Virgin Challengescoorey
What no seeding?? Virgin Gaming #ChallengeSeries Defending champion @AdamWinster knocked out in round 1 by team mate @TyWalton_ #FIFA13FIFAAddiction
I just played and won my first game 5-1. #ChallengeSeries – http://instagr.am/p/VhSTUZhSLl/Bruce Grannec
Defending #ChallengeSeries champ @AdamWinster falls at R1 against @GAMEeNigma teammate @TyWalton_ . Harsh draw. http://pic.twitter.com/p9VWdEGZVG Football
Ok…Won the first game 3-0… LEGGO!!!!JJ
At #ChallengeSeries http://pic.twitter.com/Yhl3vPFqFred Vasquez
KSi won 3-0. I'll put the match on YouTube soon. He celebrated by holding up a u mad bro shirt and shouting watcha gonna do at his oppenentStephen Coorey
TCM Demitri is knocked out in Round 1 after a close penalties match.Team eNigma
KSI advances after an easy 3-0 win in Round 1. #ChallengeSeriesTeam eNigma
Victoire 3 – 0 pour le premier match.Julien DASSONVILLE
First match won 4-0, I think I wont play second round cause my opponent dont show.#VamosRamosAlfonso Ramos Cuevas
Shock! Defending FIFA 13 #ChallengeSeries champion Adam Winster is OUT. Fallen at Round 1. Commiserations, @AdamWinsterVG Football
Former #ChallengeSeries Champion AdamW is knocked out in Round 1 by team mate Ty with a 89th minute goal!Will [ eNigma RnB ]
Won my first game 2-0 vs livio #ChallengeSeriesDT
The EA Sports #challengeseries for FIFA13 is under way with round 1 and 256 players battling for place on the next round!ReDeYe
KSI starting his match right now! Good luck buddy!! Don't let me down! #challengeseriesZack Zeldin
Some really intense FIFA matches to start off the day! I've seen some crazy goals and crazy comebacks #challengeseries #EA #SONYPS3Zack Zeldin
@KSIOlajidebt slap some admin and get them to post a bracket so we can see -_-David Coolledge
Lads, the stream is at 8pm (GMT) xD apologiesJJ
Track all of eNigmas progress in Vegas for the #ChallengeSeries – http://team-enigma.co.uk/index.php?site=news_comments&newsID=235Gareth[eNigma ViTAL]
RT @SweetpatchTV: Watch the @VirginGaming #FIFA13 #ChallengeSeries Grand Final (with images, tweets) live with us | http://storify.com/sweetpatchtv/virgin-gaming-fifa-13-challenge-series-grand-finalFred Vasquez
The two Aussies that played at 9am: Scoorey and Maximilian are through to round 2 and $850Stephen Coorey
Needed to smarten up for today's casting so I'm wearing a barely ironed green shirt with a grey tie. Innovator baby! #challengeseriesDanny O'Dwyer
Round 2 next game at 10 30 @TeamSweetpatch @VG_Football @VG_CarlGiuseppe Guastella
Stokes advances to Round 2 after a win vs Vendetta. Next game is 10.30 #LetsGo! #ChallengeSeriesWill [ eNigma RnB ]
Gotta love a million dollar video game tournament to start the weekend off right #challengeseriesZack Zeldin
Registrations
Registrations take place from 07:30-08:00 PST/15:30-16:00 GMT
I just registered for #ChallengeSeries ! Now back in my room for some training before my first game. – http://instagr.am/p/VhJqzHhSOo/Bruce Grannec
http://pic.twitter.com/KoVIxmyzTyWalton
Venue http://pic.twitter.com/hr7IBAAoTyWalton
Inside the event.. Tv's everywhere. http://pic.twitter.com/FbdDHwBcOlly Shaw
IT IS TIME!!!! http://instagr.am/p/VhEgSJkkEk/JJ
FIFA Challenge up first and already filling up. #challengeseries http://instagr.am/p/VhD9m8tNAE/Fred Villarruel
Here we go http://pic.twitter.com/XPGB4TxXStephen Coorey
Let the games begin! @enigma_stokes @gameenigma playing FIFA13 for @EASports and @VirginGaming #ChallengeSeries http://pic.twitter.com/K01UjZy5Palazzo Las Vegas
The gates are open, registration is underway. Gamers have arrived. The $400,000 FIFA Challenge is nearly here. http://pic.twitter.com/cAj4sUB5VG Football
It's crazy how i put $10 into @VirginGaming and all of a sudden, i'm in Vegas playing for over $100000 xDJJ
Its time heading to vg challenge series. @SweetpatchTV @VG_FootballGiuseppe Guastella
Less than one hour to go before #ChallengeSeries gets underway in Vegas. Live Stream begins in five hours' time at http://bit.ly/YL54qe.VG Football
#challengeseriesIjaaz Ullah
@VG_Football @SweetpatchTV @VirginGaming the ready face. http://pic.twitter.com/zq7RbETHGiuseppe Guastella
In 12 hours the battle will began in that building @VG_Football @SweetpatchTV http://pic.twitter.com/DxjlSdUoGiuseppe Guastella