Play any FIFA 13 cash games on Virgin Gaming during February 14th-25th, 2013 and be automatically added to either the Xbox 360® or PS3™Leaderboards. The top 16 players from each leaderboard will be placed into the bracketed tournament finals on March 2nd, 2013 to battle it out in the El Clásico Finals for $3,000!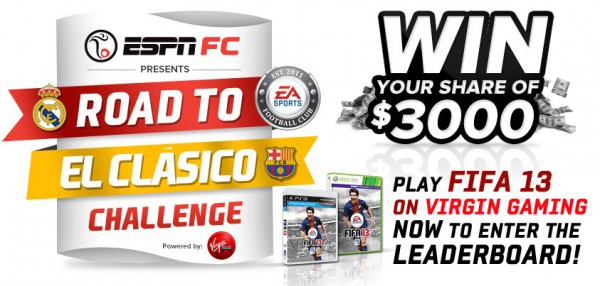 Thanks to ESPN FC, any cash game of FIFA 13 on Virgin Gaming between now and 25th February counts towards the El Clásico Challenge leaderboard!
Can you place in the Top 16 and go on to play for your share of $3,000?
How it works?
Online Qualifiers
All FIFA 13 cash games setup on Virgin Gaming and played in the EA SPORTS Arena during February 14, 2013 – February 25, 2013 will contribute to your spot on the leaderboard.
Leaderboard Challenge
The top 16 players from the PS3™ and XBOX 360® leaderboards will be placed into a bracketed tournament finals.
El Clásico Challenge
The finalists will play for their share of $1,500 per console on March 2nd, 2013.
Find out more at the home of the ESPN FC Road to El Clásico Challenge.
Want to Play FIFA 13 and Win Ca$h?  Then get signed up with our partners at Virgin Gaming and never look back.