Thanks to our partners at Virgin Gaming they have released all the Vegas rules for all games, Tournament start times, FAQs, in fact  everything you need to know about Vegas – you can find it here.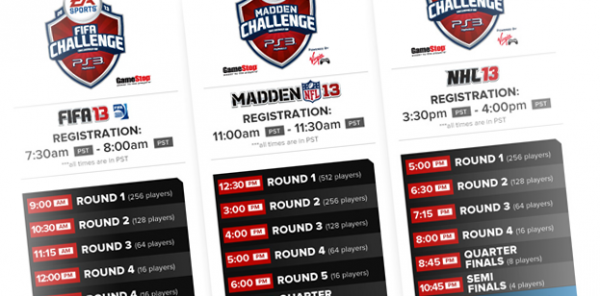 Live FIFA 13 Finals Schedule
All games to be played on Saturday February 9th 2013 and the timings are as follows: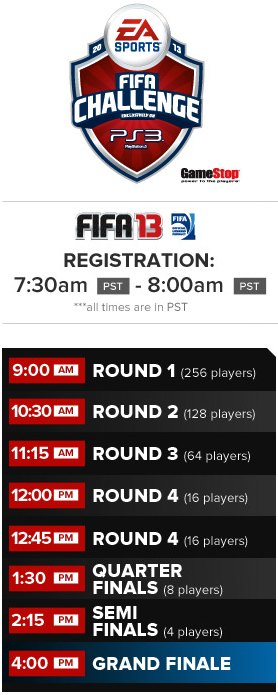 The EA SPORTS™ FIFA 13 Challenge Series Live Event Rules
The complete rule set for the event can be found here.  Please find here our extract of the key rules:
You may bring your own controller
Be on your best behavior 😉

No excessive use of vulgar language
Standing on chairs, tables, or other tournament equipment is strictly prohibited
Verbal abuse of Referees and other Tournament Officials is strictly prohibited
Inciting Spectators into taunting another Player is strictly prohibited
Inappropriate physical contact with any Opponent, Spectator, Referee of Tournament Official is strictly prohibited
Throwing anything at another Player/spectator or into the crowd is strictly prohibited.

Yippee – No custom formations allowed
Grand Final Live in Las Vegas
The Grand Final in Las Vegas on 9th February 2013, will see 256 finalists battle it out in the annual FIFA 13 tournament exclusively on PlayStation 3 to decide which player walks away with a massive $140,000 grand prize. Last year UK FIFA champion Adam Winster walked away with the massive winners cheque for $167,000, can you do it this year?
Live Finals Prizes and Prize Restrictions
Prizes for winners of the live Finals will be awarded in the form of deposits into the winner's Virgin Gaming account. Winners must be present at the Live Finals to claim their prize. Prizes will be as follows:
[table "" not found /]
Good luck to all those attending and we hope you have an amazing time out in Vegas.
Question Time
So who is your favourite to win it this year?  Vote in our question on our Facebook Fan Page to see who is the pre-tournament favourite.