Right now and for the rest of the weekend: FREE entry into the $400,000 FIFA 13 challenge on PS3! The EA SPORTS™ Challenge Series exclusively on PlayStation®3 is back with another $1 Million Prize Pool, $400,000 for FIFA 13, run by our partners at VirginGaming.com! This year, spots are limited to 1,024 for the Semi-Finals and 256 of the best gamers will head to the Live Finals in Las Vegas to compete for the $400,000 prize pool – the race is on! Check out how it all works here…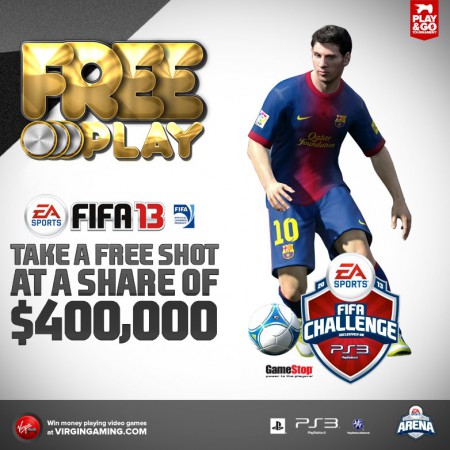 How It Works
Online Qualifiers | October 9th to January 1st

Sign up for an account at our partners at VirginGaming.com and enter for just $10. Win just FOUR games to secure your spot in the bracketed semi-finals.

Semi-Finals | January 7th and 8th

Win your way into the bracketed Semi-Finals. Win just TWO games to guarantee your seat at the Live Finals.

Live Finals | February 9th

Win your seat to compete in Las Vegas at the finals and you are guaranteed a prize of $500* and a shot at the grand prize.
Right now and for the rest of the weekend: FREE entry into the $400,000 FIFA 13 challenge on PS3! Go here to sign up for this year's VirginGaming.com $1 Million EA SPORTS™ Challenge Series.