No more friendlies! Make your games with Friends matter and Play FIFA and Win Ca$h in our partner's VirginGaming.com's all new Play & Go Tournaments.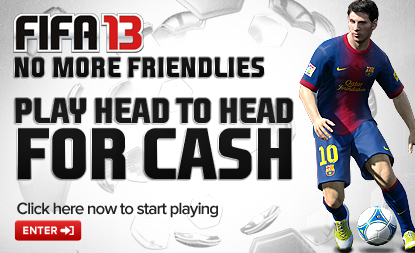 Make Your Games with Friends Matter
The all-new Virgin Gaming experience makes it quicker and easier than ever to throw a coin or two on your FIFA 13 games with friends. It's time to up the ante.
All New Play & Go Tournaments
You choose the round you want to enter at
You choose your opponent in each round. Challenge a friend, scout online competition or use the VG matchmaking system
Leave the tournament with your winnings at any time
Want to Play FIFA 13 for Ca$h Now against your mates? Sign up with/Get over to our parters at VirginGaming.com and Play FIFA 13 and win that Ca$h against your mates!
If you haven't already, check out this week's episode of Sweet FIFA Friday Recap over at our parters at VirginGaming.com.