There will be 640 gamers competing for $1 million at the Challenge Series finals in Las Vegas. Not making the trip? Tune in from home and watch it all go down.  Details here of how you can watch it live from your home.
httpvh://www.youtube.com/watch?v=lL3_YBh4Ezs
The spectacular finale of the 2013 EA SPORTS Challenge Series, powered by our partners at Virgin Gaming, will be streamed LIVE from Lagasse's Stadium, Las Vegas, on 9th February.  Watch the drama unfold live on the Challenge Series Live Stream.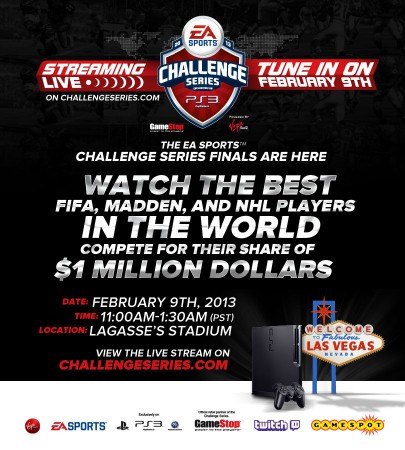 Good luck to all those attending and we hope you have an amazing time out in Vegas.
Question Time
So who is your favourite to win it this year?  Vote in our question on our Facebook Fan Page to see who is the pre-tournament favourite.