Xbox One is the all-in-one games and entertainment system for the living room of the 21st century. Xbox One puts you at the center of all your entertainment, giving you instant access to TV, games, music, movies, sports and Skype, all in one place, without switching TV inputs or waiting for slow updates or lengthy downloads. Xbox One will launch in markets around the world later this year.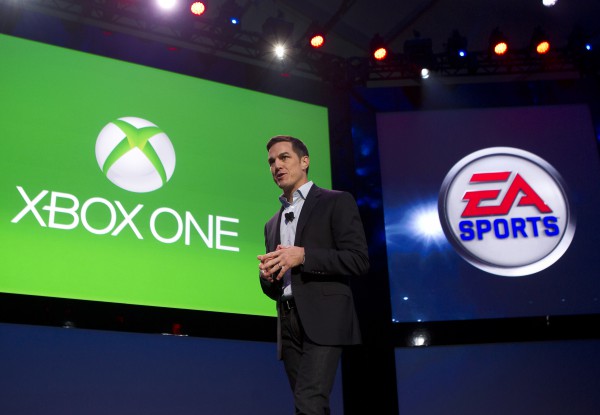 Introducing Xbox One
httpvh://www.youtube.com/watch?v=L0HgsIf-ps4
Features include the following:
Live TV | Navigate and watch live TV through Xbox One. All your entertainment is now available in one place and is easily accessible on one system. Always know when your friends are online and ready to play your favorite game, even when you're watching TV. Gone are the days of switching inputs.
Snap | Use Snap to do two things at once. Talk to friends on Skype, and watch the big game together. Follow what people are saying about your favorite show by surfing the Web. Listen to the music of your choice while playing the latest blockbuster game. Jump back and forth instantly between experiences without a loss in performance.
Skype | Display full HD, 1080p Skype video calls specially designed for Xbox One and, for the first time ever, have group Skype calls on your TV.2 Split the TV screen to join a multiplayer battle while hosting a Skype video chat with friends and family.
Home | Wake up your Xbox instantly with the words "Xbox, on," and you're welcomed to a personalized Home screen with your favorite games, apps and content. Pin movies, music and more for instant access to the things you love the most, right where you want them.
OneGuide | Find TV and entertainment quickly with voice searches for names, networks or times, presented in an easy-to-use and tailored program guide. See what's on your favorite channels and the content that's available in your entertainment apps, and quickly find the latest action movie or when the big game starts.
Trending | Still can't decide what to watch? See the entertainment that's popular within the Xbox community or with your friends. Trending is a great way to stay on top of what's hot in TV, games and entertainment and to stay connected with friends in new and social ways.
httpvh://www.youtube.com/watch?v=sWWZaERtgto
New Hardware
Xbox One was designed from the ground up to be the centerpiece of every living room with modern hardware, and it features the all-new Kinect, the new Xbox One Wireless Controller, a 500GB hard drive,3 an eight-core, x86 processor, wireless networking connectivity, HDMI®, three super-speed USB 3.0 ports, and a high-speed Blu-ray™ disc player. Features include the following:
Xbox One console | Designed with the 21st century living room in mind, the Xbox One console features a premium design with a gloss black finish, horizontal orientation and a slot-loading Blu-ray™ disc player.
Updated wireless controller | Enhanced with more than 40 technical and design innovations, the new impulse triggers offer precise haptic fingertip feedback and a newly engineered D-pad delivers greater responsiveness and control.4 An infrared LED on the front of the controller allows Kinect to automatically recognize you, making it easier to pick up and play.
Redesigned Kinect | It includes a 1080p, HD camera that captures video at 30 frames per second. All-new, active-infrared capabilities increase precision, allowing it to work in nearly any lighting condition and expanding field of view to accommodate a greater variety of room sizes. Microsoft proprietary Time-of-Flight technology measures the time it takes individual photons to rebound off you to create unprecedented accuracy and precision. The new noise-isolating multimicrophone array filters ambient sounds to recognize natural speaking voices even in crowded rooms.
httpvh://www.youtube.com/watch?v=6Yteygrh6zk
Gaming on Xbox One
Gaming on Xbox One immerses you in bigger, more cinematic worlds that look and feel more lifelike, featuring more believable characters and richer stories. Game worlds come alive through the unlimited processing power of Xbox One and the cloud. Features include the following:
Smart Match | Estimates wait times for multiplayer gaming and lets you enjoy other Xbox One activities including live TV, Skype or sports experiences while waiting for a new game to begin. On Xbox One, your Xbox Live reputation fundamentally matters and helps you find the best match based on skill, game style and language for a deeper online multiplayer gaming challenge.
Expanded achievements | Allows for new achievements powered by the cloud and offers more ways to earn, more frequent updates and the ability to share wins with friends. An expanded achievements system captures videos of gameplay and continues to grow achievements over time, and Gamerscores carry over from Xbox 360.
Living Games | Leverages the power of the cloud so games can evolve and learn from actual players, letting you play against your friends' shadow. Dynamic, living worlds evolve and improve the more you play, and games stay in sync with what's happening today — real-world events can be instantly added to games, and the latest stats can be automatically added to sports titles.
Game DVR | Captures and saves in-game highlights and epic moments to the cloud. Use editing and sharing tools to post game footage to your Xbox Live profile and social networks.
Xbox Live
The new generation of Xbox Live is completely redesigned to harness virtually unlimited power to connect, save and store personalized profiles, games and entertainment so they can be accessed anytime and on any Xbox One console. Connecting to Xbox Live makes accessing content effortless by installing games in segments so that playback starts quickly and updates happen in the background. Features include the following:
Xbox SmartGlass | Turn smartphones or tablets into second screens that intelligently interact with Xbox One and serve extended experiences for games, TV shows, movies, music, sports and apps. Navigate with touchscreens, pause or rewind a movie, or swipe, pinch and tap to surf the Web on the TV using more devices than ever before.
Multiplayer gaming | Enjoy a smart, quick and intuitive gaming experience in which multiplayer gaming has been enhanced to support playing with friends with no waiting in lobbies, and matchmaking features such as Smart Match and reputation let you architect your personal, favorite matches.
Apps | Discover and download a variety of Xbox One apps using simple voice searches.2 Pin favorites to the dashboard and jump in and out of apps instantly, or Snap them side by side to do two things at once.
Web for the TV | Explore the Web with Internet Explorer for Xbox One. Use Kinect and voice commands to browse your favorite sites with ease.2 Use Xbox SmartGlass to control your experiences with a swipe of your finger and send websites from tablets and smartphones to the biggest screen in the house.
Sports | Watch live games, highlights and replays in HD and with simple voice commands. Xbox One provides game-changing features with a personalized channel guide and the ability to dig deep on schedules, rosters and stats when making fantasy sports picks.
Xbox Live Gold | Existing Xbox Live Gold Membership for Xbox 360 will seamlessly carry over to Xbox One, becoming more valuable than ever.
So how is everyone feeling now about the Xbox One after lots of information has been absorbed in the last 24 hours?