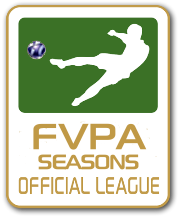 Our partners at the FVPA are pleased to announce the introduction of their FVPA Seasons League and Americas League for both European and teams from the Americas alike!
European: Number of Applications dependent, they're looking at running as many divisions as possible, with the view to European competitions being run in conjunction with other VP sites across Europe! Within this, they're having promotion and relegation as well as a cup competition built into the season to make it feel as though you're actually competing in the real thing!
Americas: Similar to the MLS and their divisions, they're going with an Eastern and Western set-up, allowing teams from each side of the Americas coast to be involved, to participate and head into the play offs to gun for glory for the first time on the FVPA!
Not only that, they're wanting to improve users visual need and have headed away from League Republic, moving to JoomLeague; have your clubs crests shown within the league table…
Then they have Rivals…. What they can say is that Rivals is going through a massive overhaul; they've looked at user feedback, developed, created and are currently coding even MORE functionality for teams and players alike to use…at this time its not ready…BUT when it is…FVPA Seasons will, without doubt be ahead of the game!
Apply now for your team to be involved with the most competitive and organised league and cup available on both consoles!
The Question is….where are you going to play???  Surely its got to be over at the FVPA!