If you are attending epic.TWELVE to play FIFA 14 and you are a fan of Forza Motorsport 5 on the Xbox One, then today could be your lucky day!  Courtesy of  the teams at Xbox and Forza we have 5 packs to giveaway to the first 5 people who send us their epic.TWELVE FIFA 14 ticket confirmation emails.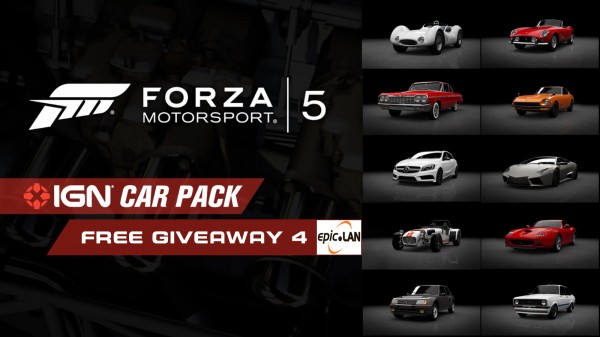 With the Forza Motorsport 5 IGN Car Packs fans can enter the driver's seat of an impressive suite of ten new vehicles for the game, built from the ground up for the next-generation.  The pack includes high-profile sports cars like the 1957 Ferrari 250 California and 2008 Lamborghini Reventón, brand new entrants to the franchise, including the 2013 Caterham Superlight R500 and 2013 Mercedes-Benz A45 AMG, and more. The IGN Car Pack includes the pack-exclusive 1961 Maserati Tipo 61 Birdcage, which is delivered to your garage for use in all modes. Additional cars in included in the pack are available for a la carte purchase in the marketplace and accessible using in-game credits once unlocked.
httpvh://www.youtube.com/watch?v=gcAVN596wRE
To Win
Forward your confirmation email for FIFA at epic.TWELVE to me and the first 5 I receive will win themselves a copy of Forza Motorsport 5 IGN Car Pack.
My email address could well be something along the lines of (my name "dave") @ the website address "sweetpatch.tv" 😉
Good luck to all of you that enter.
Tickets and Signing Up
For those that want to attend you've got two options, the £30 one day experience, which is valid for the tournaments on Saturday or Sunday, or for those that just can't get enough, the £40 full access ticket, which allows you to attend all the Sweetpatch.TV action throughout the weekend, from Friday evening all the way through till late Sunday night.
Full Tournament details and Purchase your tickets here!
epic.TWELVE runs from Friday 14th to Monday 17th February @ Kettering Conference Centre.  We hope to see you there for the Next Generation of Competitive FIFA!