Last week we were lucky enough to attend the UK's FIFA 14 Next-Gen Producer Tour at EA's awesome offices in Guildford where we learnt all about the features to be shipped at launch plus we had the opportunity to sit down with Nick Channon and get his thoughts and feedback on the Next-Gen version of FIFA, with a specific slant on the Competitive FIFA scene.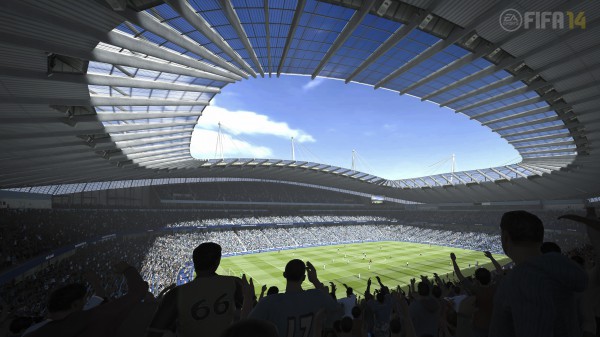 Next-Gen = Current Gen +…
Everything on the current generation FIFA 14 is now included and features in the Next-Gen version of the game. Previously this hadn't been the case with certain modes taken out completely!
For the Next-Gen they wanted to create wow moments all over the pitch. They've been able to achieve this with the "Ignite" Engine.
The "Ignite" Engine has 3 parts:
Players have Human-like reactions and awareness. They can now run 4 times the calculations compared to previous games. What that means as an example, a player about to be tackled is aware the tackle is coming in, so his body will react to another player running towards him. Brace for impact or put hands up. Where a player may have gone down before, you can now ride the challenges and this all adds to the realism.

With Precision Movement the player now feels more grounded when shifting weight onto the other foot. 100's of new animations. Processing restrictions in the past meant that only 2 players could challenge for a ball in the air (from a corner for example). Now you'll start to see 4 or even 5 people going for the ball. No more foot sliding. There's also more variety in pass animations (chest passing, etc..).

For the first time ever we have a fully 3D modelled crowd. They have changed the default camera to bring the crowd into the shot more. Helps create that realistic atmosphere. Lots more visual changes, blades of grass flying up, lighting, exterior stadiums. A.I in control of the replay animations, its not just canned footage anymore for when players come out or subs are made. A.I might choose to show a replay of great piece of skill or a previous goal. Authentic cameras in replay mode now. Match flow – the game is now continuously running. So when ball goes out for a throw in it doesn't fade to black, the ball boy will throw the ball back to the player. Helps you stay in the moment and adds to realism again.
There will also be a shared economy on console families. So transfer market on PS3 is shared with PS4, same with Xbox 360 and XboxOne.
Gallery
[Not a valid template]
Legends
42 legends in total, which is an Xbox 360 and XboxOne exclusive. 3 more players have been announced today:
Figo
Romario
Nedved.
Interview with Nick Channon (Next-Gen FIFA 14 Producer)
We were lucky enough to grab some time with Nick Channon as we asked him a host of questions from the Sweetpatch.TV Community:
Q1. Who do you support in real life and who is your team in FIFA?
I support Liverpool so I tend to play as them when I'm playing.
Q2. @DanielGriffiths "What is the major difference from Current Gen to Next?"
The 3 columns of the Ignite Engine, added realism, more animations, etc…
Q3. @GloversLovers "Let goalkeepers get Red cards online!"
Feedback is very important to us, we value it highly and we've been listening to all the community sites and players to make sure the game changes and balances out areas that people aren't happy with. We released a patch just last week that addressed various issues, in the past we've changed the weight on some of the passing, made midfielders mark more tightly etc. So it's something we will continue to listen to and make changes accordingly.
Q4. @cave_nick "Career mode.. is there finally a 'true' update of the squad management side of the game.. it felt outdated two years ago!…"
Again, its something we've had a lot of feedback on and we're always looking to improve all aspects of the game.
Q5. What was your greatest challenge in creating the next gen FIFA 14?
Working with new hardware is always going to be a challenge, but it's something we've done before so we knew it wasn't going to be easy. The challenge is something to relish though. We're really proud of the fact that we were able to bring all the features and game modes from the current gen over to the next gen.
Q6. Can we hope to see a 'spectator' mode making an appearance on a FIFA game soon?
We don't tend to talk about future games so unfortunately I can't comment on that
Q7. What features have been included in FIFA 14 next gen to ensure that online competitive gaming can be played out as fairly as possible?
We've worked hard to carry over all the existing features from current gen onto the new consoles
Q8. Are there any plans to build in-game user created online competitive leagues and tournaments for multiple players
Can't answer questions on future games I'm afraid
Q9. Is there a possibility that FIFA 15 could see FUT develop to provide a platform for competitive offline tournaments?
Again can't comment
Q10. Do the development team follow sites like Sweetpatch TV and has the FIFA Masters Series been discussed at all?
Yes we are aware of them, we don't follow them closely but its something we'll be keeping an eye on in the future.
Other FIFA 14 Next-Gen News
In other news regarding the announcement of the latest FIFA 14 Next-Gen, check out the following:
A massive thank you to Nick for answering your questions, to EA UK for our invite and to Will Gask for making this all possible.