Following the success of our second FMS Online Tournament last Wednesday as we streamed it live as part of the Back of the Net Podcast 111, we bring you a thorough review of the Tournament where Ty Walton was crowned our 2nd FMS Online Tournament Champion.

FIFA Masters Series (FMS)
The Online Tournaments run each month in the build up to the Grand Final at the end of August at insomnia49.  At the end of the insomnia49 FIFA 13 tournament, points earned from insomnia48, EGL9, EGL10, insomnia49 and the Online Tournaments will provide us our Top 8 players in the FMS League.  These 8 will play off at insomnia49 in the FMS Grand Final for the title of FMS Champion 2013!
The Players
We had a great entry list as 80 of Europe's and the US's top FIFA players entered including Denmark's Patrick Finne; Finland's Juho Järvelä (our runner up last time), Freddy Ackrén and Petri Rintala; France's Johann Simon;  Poland's Robert Liszka, Sweden's Filiph Skold, USA's Aman Seddiqi; plus UK's top players including Ty Walton, Adam Johnston, Olly Shaw, Tom Stokes, Wesley Winter, Chris Bullard, Gavin Wong, Sean Allen, Tassal Rushan,, et al; and it was great to see some newcomers making a big impact including YouTuber's Bateson87 and Ross96HD
A number of the above players having played recently in the televised FIFA Interactive World Cup Grand Final in Madrid and Virgin Gaming Challenge Series out in Las Vegas.  It was a great set of players for our second online tournament and we were absolutely delighted.
Tournament Coverage
As last time we also to ran a Live Show during the tournament to provide a different aspect for the players and viewers.  We streamed the whole tournament live on Twitch TV with live games streamed plus player interviews and plenty of banter from the Show Team of the Back of the Net Podcast Crew including Daniel "WelshDragonDsG" Griffiths, Adam "IrishWelshCelt Ladd, Dave "SamBookaMan "Raybould and my good self, with the Tournament Admins of the Morrison Brothers, Nidge and Aubs playing a massive part in the background ensuring the tournament ran smoothly.
You can catch up with all the coverage from kick off to final presentations here with us in Back of the Net Podcast episode 111:
httpvh://www.youtube.com/watch?v=Hg07xA6WH9U
Tournament Prizes
We were delighted to have on offer the FMS Points to the Top 32 players plus the Winner would earn themselves a TUP ticket to insomnia49 courtesy of Multiplay (worth £55) and a MLG Pro Controller courtesy of a Mad Catz (worth £90).
Tournament Kick Off
You can check out the full Tournament Bracket for all the matches and results by clicking on image below.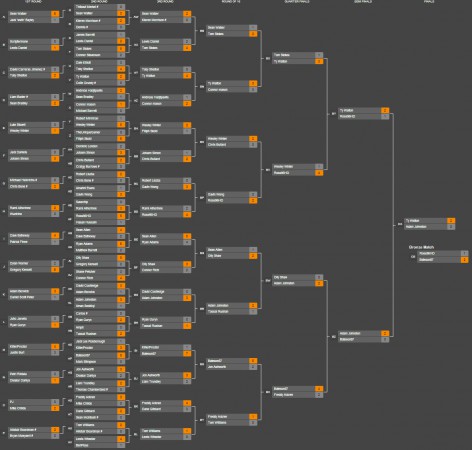 1st Round (Preliminary Round) and 2nd Round
The majority of the players turned up for the kick off of the tournament and during the 1st prelim and 2nd round there were a couple of surprises with a few big players not making it through, including last times runner up Juho Jarvela, Luke Stovell, the Barrett Brothers (James and Michael) , Dominic Stephens, Dave Bytheway, Aman Seddiqi and Mike Childs.
Impressive early form was been shown by Tom Stokes, Wesley Winter, Filiph Skold, Gavin Wong, Ross96HD, Sean Allen, Ryan Adams, Olly Shaw, Bateson87, Freddy Ackren and Lewis Wheeler as they all progressed comfortably in to the 3rd Round.
3rd Round
There were some big match ups in the 3rd round as we again lost some top FIFA players as Filiph Skold,  last times 4th placing Johann Simon, David Coolledge, and KillerProctor had to watch the rest of the tournament on the stream.
Big winners included Tom Stokes (4v2), Ty Walton (4v0), Gavin Wong (3v0), Ross96HD (4v2), Adam Johnston (3v0) and Bateson87 (7v1).
Round of 16
There were some top matches as we got down to the final 16 players, including:
Sean Walker 1 v 2 Tom Stokes
Ty Walton 3 v 0 Connor Mason
Wesley Winter 2 v 0 Chris Bullard
Gaving Wong 0 v 2 Ross96HD
Sean Allen 1 v 2 Olly Shaw
Adam Johnston 2 v 1 Tassal Rushan
Bateson87 5 v 2 Jon Ashworth
Freddy Ackren 1 v 0 Tom Williams
There were a couple of surprises in this round with both Chris Bullard and Tass Rushan not being in the final 8 players who progressed in to the Quarter Finals.
Quarter Finals
There were some great match-ups in the Quarter Finals including:
Tom Stokes 1 v 3 Ty Walton
Wesley Winter 1 v 4 Ross96HD
Olly Shaw 0 v 2 Adam Johnston
Bateson87 4 v 2 Freddy Ackren
We streamed the Tom Stokes v Ty Walton match live and you can catch up with it above in our live coverage.  What was really noticeable as our 4 players progressed to teh semi finals that both newcomers form the YouTube scene made it in to the semis with both Bateson87 and Ross96D.
Semi Finals
In the Semi Finals we had 2 cracking matches with the chance for both YouTubers to make it to the final, but both coming up against top UK FIFA players:
Ty Walton 2 v 1 Ross96HD
Adam Johnston 2 v 0 Bateson87
We streamed the Ty v Ross game which was a cracker as in the first match Ross equalised in the last 5 minutes to take the game to a 2nd match where Ty won it in the first period of extra time.  An outstanding efforet by Ross against UK's number 1 FIFA player.  Bateson87's run also came to an end after an awesome evening of FIFA as Adam Johnston booked his place in the Grand Final versus Ty.
Bronze Match
The battle of the YouTubers kicked off with Bateson87 coming out on top 2v1 as he captured his 16 FMS Points and Ross96HD deservedly walked away with his 13 FMS points.
Grand Final
So we had ourselves an Ireland v UK Grand Final as Adam Johnston  matched up against UK FIFA star and Team Dignitas player Ty Walton.  Ty was one of our pre-tournament favourites as once again he had played steady FIFA all night and deservedly progressed to the Grand Final.  Adam had been impressive all night and continued his form in the FMS after his runners up spot at EGL9.
We streamed the Grand Final live and it was a close affair but Ty managed to capitalise on his moments of possession and earned his victory beating Adam 2v0 in our second FIFA Master Series Online Tournament.
Ty claimed his 26 FMS Points plus ticket to insomnia49 and awesome MLG Pro Controller (valued together at £145) whilst Adam went home happy with his nights work and 19 FMS points.
Ty commented after his victory:
I was very pleased to have won the latest FMS tournament. I didn't really expect to win, due to not playing much H2H since EGL, along with standard being very high.
Stream Giveaways
During the stream Live Show we also ran a couple of giveaways , the first was to "Tweet a picture of yourself with a cat as a headset to @SweetpatchTV and @MadCatzUK!" We had a number of entries (very very funny) and our winner was @DavidCoolledge with:
@SweetpatchTV #fms pic.twitter.com/WTnnNieasg

— David Coolledge (@DavidCoolledge) June 26, 2013
The second giveaway was to Tweet what you would do with Dave (me) for 24hours using the hashtag #24HoursWithDave We had some great entries and our winner was:

@Wittser @SweetpatchTV @MadcatzUK If i had #24HoursWithDave i Would smother me and him in Vaseline and we would slide around like slugs

— Ross (@Ross96HD) June 26, 2013
In Summary
Massive congratulations to Ty for his deserved victory and thanks to all the players for taking part and making our FMS drean a reality.  Thank you also to our Live Show Team of Daniel "WelshDragonDsG" Griffiths, Adam "IrishWelshCelt Ladd, Dave "SamBookaMan "Raybould plus our Tournament Admins of the Morrison Brothers, Nidge and Aubs for making the night run so smoothly.  Finally, a massive thank you to our tournament sponsors Multiplay and Mad Catz.
Get yourselves involved in the FMS, Ty recommends:
I think the FMS is a great system as it enables every player to keep track of there progress throughout the year, not only that but it also gives that extra incentive to win.
FMS League Table
Every FIFA Masters Series qualifying tournament provides points towards the FIFA Masters Series League based on the players finishing position (based on the Formula 1 Grand Prix points system with points doubled for offline events).
Check out the Points earned at this tournament and the latest FIFA Masters Series League Table.
Next Online Tournament
Please get involved with our next Online Tournament on Wednesday 17th July and help build the FIFA Masters Series to be a massive success for the benefit of the competitive FIFA community.